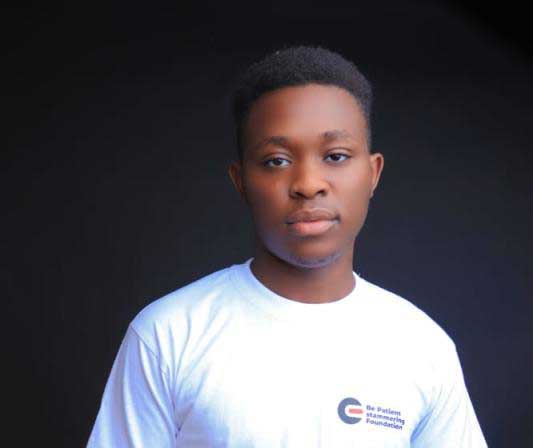 They have been ridiculed when growing up in a society that has failed to understand them. Jokes have been cracked and memes circulated making fun of stutters.
The latest joke is that of a phone call conversation with a stutter that makes the caller deplete his Sh50 airtime on greetings alone. Those affected by the condition face emotional strain due to the frustrations brought about by their struggle to speak.
For 23-year-old Dominic Kiplimo, the pain of continuous ridicule saw him almost commit suicide.
Brought up by a single mother, Kiplimo from Mtoni, Matunda Likuyani Constituency, remembers while in Standard Seven in 2013 when he was punished for a mistake he never did. He was unable to defend himself because words could not easily come out of his mouth. He said pupils were making noise in his class, and he was picked among the noisemakers.
"I tried explaining myself to the teacher, but words could not come out. The teacher felt I was about to fabricate a lie," said Kiplimo. His high school life was no different. Kiplimo said besides the many punishments, he could not participate in reading set books. He says other students would burst into laughter and others imitate him when it was his turn. The Chuka University Master of Environmental Science Student said at one time, a Form Four student asked him to get contacts of 20 girls who had paid a visit to their school for a benchmark.
"I was all sweaty and could not express myself. The girls laughed at me. I was embarrassed," he added.
During his days at the university, he was allegedly denied an attachment in an organisation because the Human Resource manager thought he was shy, incompetent, nervous and could not express himself. It took the intervention of a friend to get him a chance elsewhere. Further, he said a tout once assaulted him while trying to bargain fare.
"In primary school, I would spend some lessons standing as some teachers would ask questions, and those quick to answer would be allowed to sit. At times, I would end up offending the teacher due to difficulty in uttering some words," he said.
Following this, Kiplimo said he was forced to find a solution to the problem he faced, alongside hundreds of others. He came up with a foundation to empower, nurture and mentor younger stammerers.
His wish is to defend and protect the rights of stammerers, as well as to make it public that the intelligence of a stammerer is in no way inferior to that of a non-stammerer. He is the CEO and founder of Be Patient Stammering Foundation, which he started in 2018. Kiplimo is in the process of drafting a bill to petition the Parliament to have stammerers included in the list of persons with disabilities.
"I started the organization because my life journey was and is still full of stigmatization, humiliation, depression, and stress," he said. He is also seeking to have legal protection for stammerers in the government and private institutions. He also wants speech therapists hired in schools across the country. Evaline Okello, a housekeeper, said in 2018, she was forced to resign as a salesperson after two weeks due to her condition. She said the job required lots of communication and fluency. And in November 2019, she resigned from another job having worked for only four days. "The manager told me I cannot work there since I was delaying his customers," she said. David Maina, Lead Occupational Therapist, Arise Hope Special Needs DayCare & Boarding Centre in Nakuru, said speech fluency can be caused by emotional distress or failure to have proper development in the brain's speech areas. It can also be caused by a stroke, traumatic brain injury or other brain disorders.
"There is no specific cure for stammering, although speech therapy has helped improve speech in many people. Meditation also helps," he said. According to Maina, those affected by the condition face an emotional strain, and that constant ridicule had resulted in many being hot-tempered or depressed.
What really is stuttering?
According to the Stuttering Foundation, a US-based organisation, stuttering is a communication disorder in which the flow of speech is broken by repetitions, prolongations, or abnormal stoppages of sounds and syllables. The challenge affects four times as many males as females. The organisation indicates that more than 70 million people worldwide stutter. Genetics, child development and neurophysiology are said to contribute to stuttering. For many, stuttering can be a chronic life-long disorder usually characterised by unusual facial and body movements for one to speak.
"Nervousness does not cause stuttering. Nor should we assume that people who stutter are nervous, fearful, anxious or shy. They have the same full range of personality traits as those who do not stutter," the foundation notes. According to the African Stuttering Research Center, an organisation based in Rwanda, many young children in schools face the challenge of stuttering. Currently, a book titled Sometimes I Just Stutter (Mara Nyingine mimi huwa kigugumizi), has been translated to Swahili to reach out to 11 Swahili-speaking countries in Africa. The book that targets children between the ages of seven and 12, narrates that the challenge sometimes disappears especially when one is alone or singing. While stuttering becomes worse in some people when they are mad, others become fluent. "This book represents the thinking of seven leading authorities in the field of stuttering. Most often asked question by parents is a way to work with a child to contribute to the normal development of fluency." The book, authored by Eelco de Geus, a stuttering therapist, tells the children about what makes them stutter, why some people do not understand why they stutter, and what others should know about stuttering. The book describes the different stuttering forms which include repeating a sound or word several times, some puff out some breath before talking, and others shut their eyes when they stutter. Others move their head around when they stutter, while some move their body parts when they stutter. "Nobody likes to stutter. When you stutter, some words are hard to say. Sometimes it feels like your throat is locked, and you can't get on with what you wanted to say." According to the Foundation, it is not prudent to make remarks like "Slow down," "Take a breath," or "Relax" to someone who stammers, as the remarks are demeaning. Instead, it is advised that one maintains eye contact and waits patiently until the person finishes the sentence. It is not advisable to help them finish sentences or fill in words either. "Be aware that those who stutter usually have more trouble controlling their speech on the telephone. Please be patient in this situation," the foundation advises.
Famous People Who Stammer While most believe that stuttering has its own limits, thousands have broken the barriers. One of the most influential people of our times is comedian, television host, producer, radio personality, actor, and author Steve Harvey. In one of the TV shows, Mr Harvey spoke of how he faced ridicule while growing up. Harvey said at some point, one of his teachers asked him what he wanted to be when he grew up. He said he wanted to be on Television, an answer that earned him more ridicule.
Other celebrities include; Ed Sheeran, award-winning Emily Blunt, Actor James Earl Jones, multiple Grammy Awards Kendrick Lamar.
Popular movie star of the 1950s and early 1960s actress and singer Marilyn Monroe as well as King of Rock and Roll Elvis Presley. Michelle Williams, singer, songwriter, record producer, and actress best known for being part of the R&B group Destiny's Child is also among the celebrities who have had the challenge. Sports stars include; one of the most successful golfers of all time Tiger Woods.
In one of the interviews, he said, "A simple question was the most frightening thing that could happen if you can't speak. I could certainly think it, and it was there, but the connection – the words got lost somewhere between the brain and the mouth, and it was very difficult." Other sports personalities include Bill Walton, NBA All-Star and Hall of Fame NBC Sports commentator, among many others.
Related Topics