Home
/
Your Home
6 ways to give your ceiling a makeover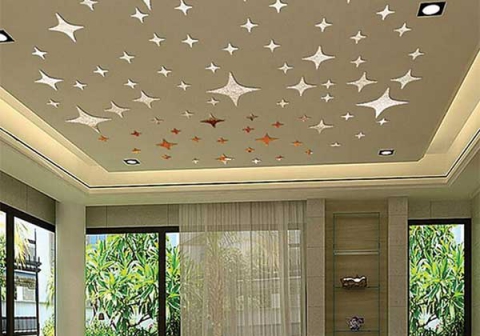 Ceilings are most times forgotten in home decorating yet every time you lie down, you stare at them. There is a myriad of options for your ceilings that are easy to achieve without breaking the bank:
1. Install a medallion
Medallions are used to draw attention to light fixtures and chandeliers. They are the easiest to install in ceiling projects. You can purchase medallions from major construction hardware stores and stores on Kijabe Street. Alternatively, you can have a custom-made medallion from iron welders. After installation, you can then paint your medallion a different colour from the white ceiling.
2. Paint it
Yes actual paint that is not white. Ceiling paint is known as emulsion. It is manufactured thicker than regular paint so it doesn't drip as you are applying it.
You can paint your ceilings a darker colour or a lighter colour or same colour as your walls. For instance white walls crowned with a dark ceiling will add mystery and depth to your room while making the ceiling appear lower. Dark colours look best in bigger rooms, dainty and lighter colours are best reserved for smaller rooms. Painting the ceiling and walls in one solid colour will maintain cohesiveness in your space.
3. Wallpaper it
Wallpaper is traditionally meant for walls but wallpaper applied to a ceiling makes any room stand out. There are several wallpaper styles to choose from and application takes a few hours to a day.
4. Hand-paint a mural
Murals are a great way to spruce up any large expansive surface. To paint a mural you need to contract a really good artist. This is a project that might take days to complete depending on how intricate a mural you are commissioning. You can use metallic paint to add more pizzaz to your mural.
5. Install crown moulding
Crown moulding is also referred to by the terms: cornices, borders, trimming or edges. It is basically the strip used where the wall meets the ceiling. Crown mouldings add an architectural flare to any room. You can paint your moulding a contrasting colour from your ceiling.
6. Mirror it
Mirrors add a twist of Hollywood regency to any room. Decorating ceilings with large mirrors will definitely break several banks but is worth every penny.
You can decorate with a mirror just around your light fixture or on the entire ceiling. You can choose plain mirrors, custom-cut mirrors, tinted mirrors, etched mirrors and much more.
Related Topics