Home
/
Your Home
How to go for a simple yet stylish Christmas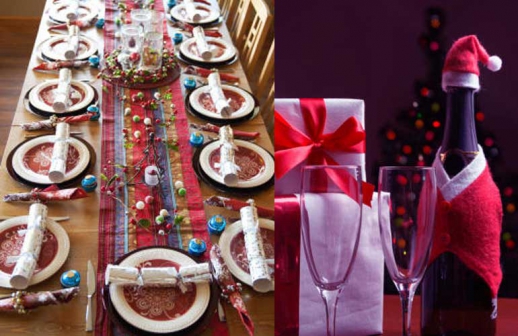 I am in a phase of life where I am appreciating keeping things simple and Christmas is no exception. I want a little-effort great impact kind of activities. If you are hosting and need a quick idea on how to get the festive ambience on the table or simply making a grand Christmas table layout for your family, here are two simple ideas to get you going.
Dressed up wine bottle
There are plenty of opportunities to pop a bottle of wine or champagne during the festive season. The holiday season is a great chance to showcase your sense of style. Wrap the bottle in a way that is specific to the festive season. A bow round the neck of the bottle.
Ribbon tendrils on the stem of the wine bottle or a Santa Claus dress up for the wine bottle will give your bottle of wine a finished look.
A well-dressed bottle of wine, placed alongside a Christmas gift, and two glasses of wine, create a great centre piece for your dining table or even for a romantic Christmas eve dinner for two with your spouse and will create a celebratory look and feel.
Table Runner
A Holiday themed table runner is a great place to start to lay out your table. It will get you in the mood to place your plates, celebratory cutlery, crystal ware and candles.
Find a festive centerpiece to place at the centre of the table to help keep the runner in place. Your dressed up wine bottle creates a fantastic centre piece and its weight will help to stabilize the runner.
The beauty is in the details – create a themed color scheme on your table such a s gold or silver theme or stick to the red and green Christmas colours for the plates and napkins. A well laid out table provides a visual urge that attracts family and friends to gather at the table.
Keep things simple but beautiful this Christmas so that you reserve your energy for the greater things in life such as relationships and appreciating all the good that 2016 has brought your way.
Have a simplified Merry Christmas filled with joy and laughter.
Related Topics