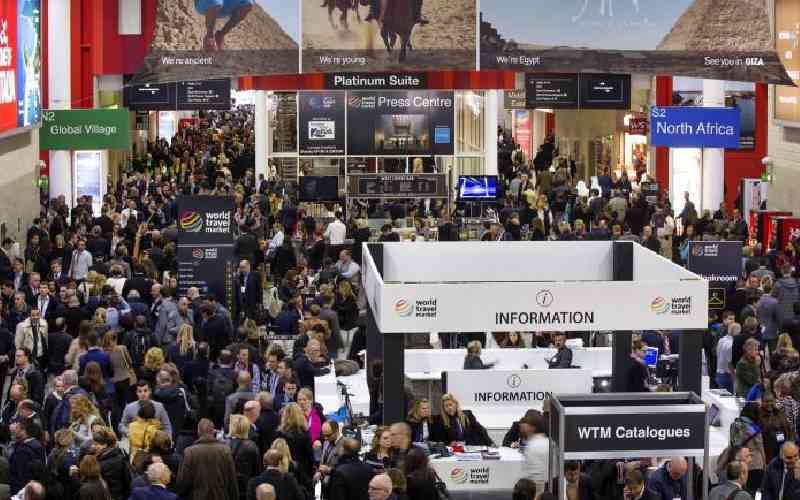 World Travel Market is back after an absence of physical events due to the Covid-19 travel restrictions. The forum brings the travel industry together through world-leading events, content and digital tools.
This year's show will take place on November 7-9 in London and is expected to go back to pre-pandemic format, with thousands of visitors and hundreds of destinations exhibitors from across the globe.
"Buyers are telling us how excited they are about walking through the doors of ExCeL (the event Centre) once again, where they can discover what is new in the world of travel and what is in store for the coming season," Juliette Losardo, Exhibition Director at World Travel Market London, said.
The event will take place at the ExCeL London Exhibition and Convention Centre located on a 100-acre site on the northern quay of London's historic Royal Victoria Docks, between Canary Wharf and London City Airport.
In 2021, Kenya was represented at the event by Tourism Cabinet Secretary, Najib Balala as part of the 140 countries attending WTM 2021 in London.
The event, attended by several tourism professionals, was the first after two years due to Covid-19 travel restrictions. The agenda was to come up with a recovery plan that would boost the global tourism sector after the pandemic.
Visitors to the 2022 event will only be allowed to access the premises with a mobile badge. The organisers also say that there will be no print facilities on site, so printing of physical badges will not be possible.
Participants attending the November event will not have to collect business cards or carry around flyers. The official tech firm, Konduko, will provide participants with a SMART solution that puts all the information that a participant requires in one place. The badge becomes the participant's virtual show bag.
"This year, WTM London guarantees inspirational conference sessions, plenty of new features, and networking opportunities galore, as we all look ahead towards the future of the travel industry," says the WTM Exhibition Director.
Related Topics