Home
/
Skin Care
Five common causes of adult acne and what to do about them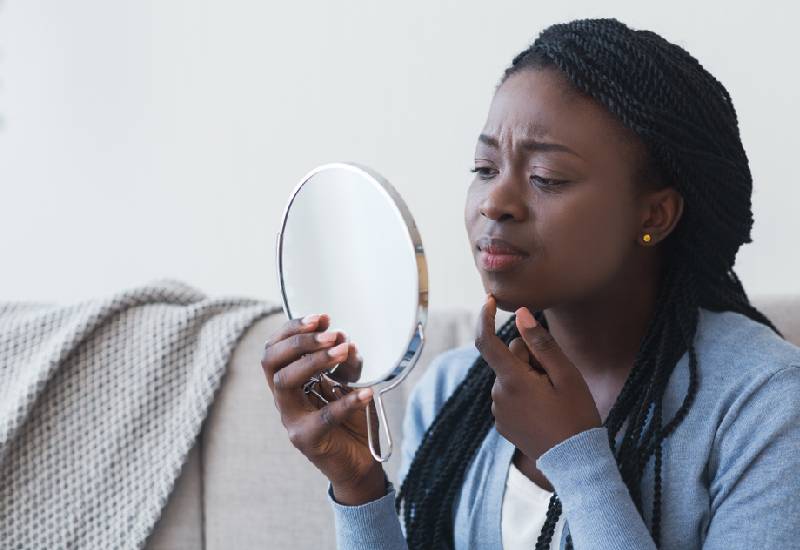 Just when you thought you had left your skin problems in the past then boom, the nightmare begins. You can't help but wonder what is causing the breakouts.
While there is no clearly defined answer, several factors attribute to it.
Your pesky acne could be a result of genetics, diet, lifestyle or habits.
An inflammatory skin condition that often occurs during puberty, clogged pores are usually the root cause of acne.
When dirt, dead skin cells, excess oils and possibly bacteria take residence in your pores, you have a perfect recipe for breakouts.
Although a simple skin care routine of cleansing and exfoliating is usually enough to keep acne at bay, for some the situation is more complicated.
Here are some common causes of what might be triggering your breakout and what to do about it.
1. Hormones
Before or after your period, chances are you may notice one or two pimples. Due to fluctuation of hormones right after ovulation, for instance, increase in production of progesterone, can trigger oil production and false up acne.
You will notice a painful cystic bump around your chin, cheeks or back. Notoriously annoying to treat with topical creams which are unable to penetrate, popping them is a bad idea as chances of causing scaring are super high.
The best thing you can do at this point is to wash your face twice daily, with products that contain ingredients like salicylic acid and benzoyl peroxide.
2. Stress
Is something bothering you at work or at home? Are you worried about your marriage or children?
It is time you stopped stressing over issues you probably have no control over.
Turns out stress can worsen acne through release of neuropeptides and certain hormones such as cortisol which is highly linked to acne related problems.
While stress alone cannot cause acne, it can exacerbate them.
Take a break from everything and engage in activities that will distract you from thinking too much.
If you have to create a favorable environment, talk to a professional or take a break from everything, do so to help calm your nerves.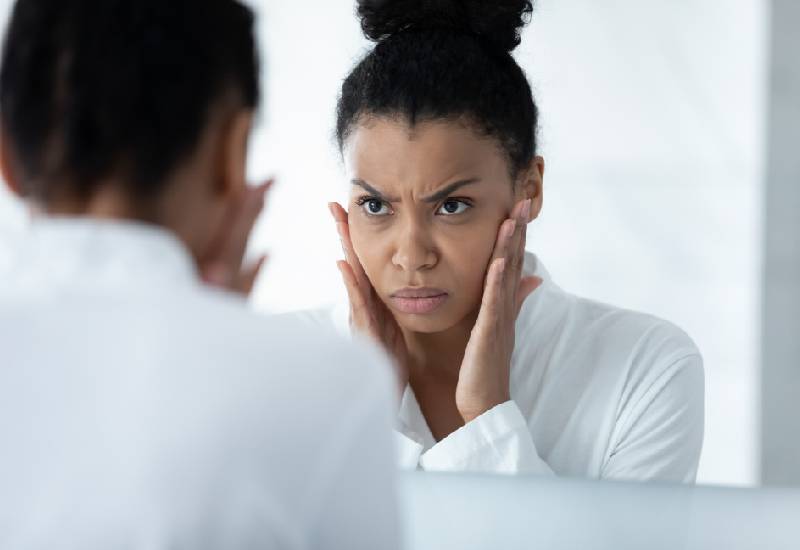 3. Hair products
Did you know that this cause of acne is so popular it even has a name? Pomade acne happens when hair styling products seep into the forehead and surrounding skin trapping acne causing bacteria in your pores.
This results in inflamed blackheads and whiteheads around the hairline and forehead.
Avoid styles with bangs and products especially hair sprays that have harsh chemicals.
Use all-natural products safe for your skin and apply directly with your hands. After styling your hair, always wipe away excess products from your face using a facial cleanser.
4. Bad skin care habits
Just because a product is being marketed to work magic on your skin doesn't mean it's good for you. Switching up products too soon and mixing them up can cause irritation and break outs from the ingredients and preservatives they have.
Interesting fact is even acne products can trigger acne when you're using every product you can get your hands on all at the same time. This tears the skin apart.
Other bad habits you need to drop include touching your face with dirty hands, sleeping on dirty beddings and not removing makeup before bedtime.
Ensure you don't touch yourself when unnecessary, clean your bedding often, have an ideal makeup remover and pick one or two tailor made products made to fight your specific skin issue.
If it's fighting acne, get a cream or cleanser specially made for that and give it at least six weeks to see if it works before moving to the next product or adding one to your routine.
5. Diet
We're all guilty of giving in to cravings that do more harm than good. Foods loaded with sugar, fats and refined carbohydrates are high on the glycemic index triggering certain hormones to help your body absorb the sugar in the long run causing acne.
Other dairy rich foods have also been found to make acne worse. And in some people, iodine containing foods like shellfish trigger breakouts.
Therefore, it is important to cut back on snacks and eat more whole grain foods, fruits and raw vegetables.
If the acne continues to persist even after making changes in your diet and lifestyle, get in touch with a dermatologist who may be able to prescribe the right oral medication or a cortisone injection for painful acne lesions.
Related Topics