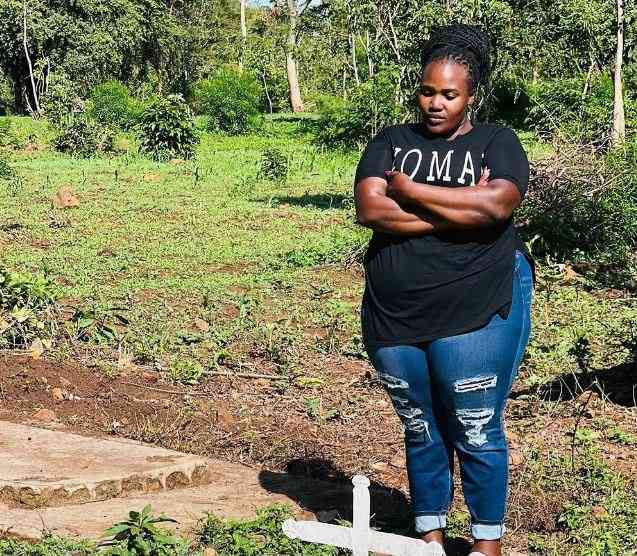 Renowned actress Sandra Dacha better known as Awinja for her role in the TV drama Auntie Boss has penned a moving post in remembrance of her late parents.
In the post shared on her social media, Sandra disclosed that she wishes her parents, Mr Ernest and Mrs Beatrice, were still alive, adding that she misses them terribly.
"Sometimes I just wish you were here so I could tell you how much I need you…I hide my tears when I say your name but the PAIN in my heart is still the same…although I smile and seem care free but there's no one who misses you like I do. Do I choose to wake up every day and grieve? NO! I wake up every day and know a part of me is missing," she wrote.
Given a chance, Sandra said she would happily take the opportunity of seeing them again, even if it's for an hour.
"If I could give a single wish and never have another, it would be to have an hour and spend it with you. Continue resting In Peace Beatrice and Ernest eiii wazazi wangu," she added.
Sandra, who is currently in Nyanza to honour her late parent's memories 24 years on, invited her friends, and judging from her social media updates, they came out in numbers to support their friend.
"Then my friends helped me celebrate my late parents. IT'S been 24 years living as an orphan. I was both confused, sad, happy and grateful at the same time. Thank you so much for visiting our home. These were moments before my guests arrived. I was down the whole day but when they called and said they were five minutes away…all I could do was to dance! Hosting people in the village is a full task i swear but I thank GOD all went well," she said.
Having lost all her children, Sandra explains that her grandmother thought her life would end sooner, but with time she has grown to become a very jovial individual with the help of her grandchildren.
"Meanwhile show some love to my grandmother/mom because she is the happiest of them all. She says she thought after losing all her eight children, her life would come to an end but she thanks God for her grandchildren. Long live NYADENY!!!" added Sandra.
About two years ago, the actress lost her close friend and comedy counterpart, Othuol Othuol, who had been battling an ailment.
Sandra penned a remembrance post for his first death anniversary, stating that she misses him.
"Got there... saw him. Still fresh and warm... didn't know whether to weep, cry, wail... Didn't want them to take him to the morgue because maybe...just maybe he could be breathing that's when it hit me that Othuol was gone. Gone and was never coming back. It's been a year Othuol. I still miss you my friend," read part of her post.
Related Topics