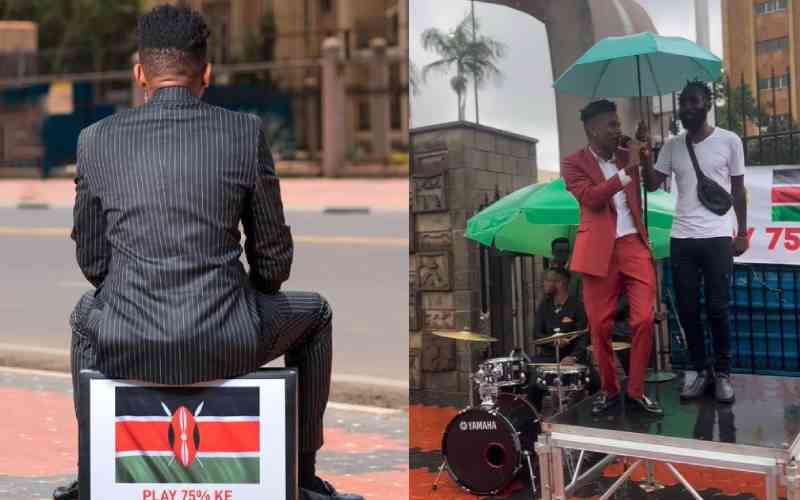 Embakasi East MP Babu Owino has lauded comedian Eric Omondi for his efforts to save the local music industry. The lawmaker, who tabled Omondi's 'Play75%Local content' bill before the parliament, stated that Eric was doing a commendable job for artistes.
"@ericomondi you are doing a great job for our artistes," he wrote.
The comedian, who has been at the forefront of championing the bill that requires TV stations and Radio stations to play at least 75% of local content, expressed gratitude to Babu Owino for tabling the bill.
"The historic moment when the #Play75%Local was Mentioned/Tabled. Thank you @he.babuowino for this great support to the young people of this Nation. The Journey is officially on," he shared.
Eric, who staged a performance at Parliament premises just before tabling the motion, has received mixed reactions from artistes and netizens.
"First Ever Kenyan music Concert at Parliament Buildings. Then we tabled the Motion in Parliament," he shared on Instagram.
In a quick rejoinder, Bien Aime Baraza dismissed Eric's post accusing him of only seeking attention.
"Attention seeker number 1," Bien commented.
Just the other day, rapper Nadia Mukami took a swipe at Eric Omondi for failing to recognize a recent concert where Kenyan artistes, including Mukami, performed throughout.
"They will not write or publicize how yesterday Kenyans really showed up for an ALL-Kenyan line up! Thank you, much Kenyans, for showing us your support! It means the world to us and we do not take your support for granted. we promise to keep working on our craft to be better and fly the Kenyan flag higher! Thank you so much," Nadia Mukami shared on social media.
Reacting to Nadia's message, Eric made it clear that he was not impressed, adding that artistes should take it as a challenge to perform for larger crowds outside the country.
"Let's get something clear guys, I want to see Kenyan artists out there taking over Africa and the world like the way Nigeria, South Africa and TZ have taken over our country and airwaves. @nadiamukami this is good but not good enough, nataka uperfomie wa Nigeria in Enugu state vile Ruger aliperforn kwenyu Meru. I am not impressed at all," he shared.
Related Topics