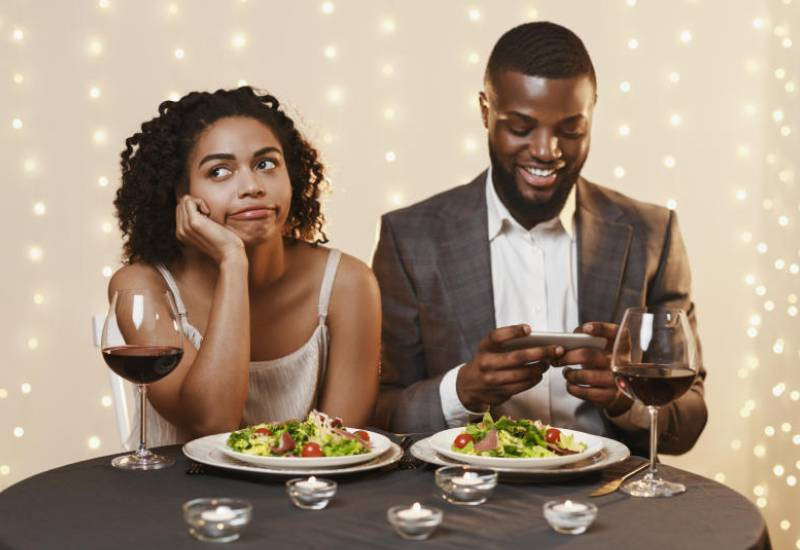 Going on a date sounds like such a simple process. You just plan where to meet, put a cute outfit on, meet up and have fun while getting to know each other and voila, you're ready to ride off into the sunset.
Well, it's easy to feel confident but sometimes it can be very nerve-wracking when that day finally arrives. But don't panic because all you need to know are the do's and don'ts and the rest will be taken care of.
At this point in time, let us focus on the don'ts and these are some of the things you should avoid doing at all costs:
Don't be late
Being late for a date isn't a cute look at all. You might want to take your time getting ready so that you make a good impression but trust me, your date will feel some type of way about it.
Once you agree on a specific time to meet up make sure you plan properly especially when you know you struggle to keep time.
Give yourself enough time to prepare so that you don't arrive embarrassingly late.
Don't go without any cash
Most ladies would still want their date to pay for their meal or activity on the first date at least. But these days it's not unusual for some people to split the bill and you have to be prepared just in case.
Since you're not exactly sure whether your date will handle the bill or what their mindset is when it comes to paying for a date, just have enough cash on you.
And even if they are paying for everything, you will still feel more secure when you have your own cash.
Don't be so serious
It's good to date with intention. No one likes to have their time wasted and it's essential that you know whether you're each other's potential from the beginning.
However, this doesn't mean that you should be way too intense. You shouldn't be dismissive if they don't give you the answers you expected or start being clingy if they're showing signs that they're a good match. Have light conversations and enjoy the process of getting to know each other.
Don't overeat
A date isn't a chance for you to order full platters and extra servings. Although your date might encourage you to order what you want, they are just trying to be polite.
You don't know whether they can manage to pay for what you've ordered if it's something extravagant and, it's also not good etiquette to eat way too much on a date.
Don't try too hard to impress
The key to having successful dates is just being yourself. There is often a lot of pressure to make a good impression but don't let that turn you into someone you're not.
Eventually, they will get to know who you are and it will be disappointing if they find out you were just forcing an accent or pretending to be of a certain class.
Being who you are will make you feel more confident and it will attract the right person who can appreciate that.
Related Topics