Home
/
Easy recipes: Oven grilled fish with roasted veggies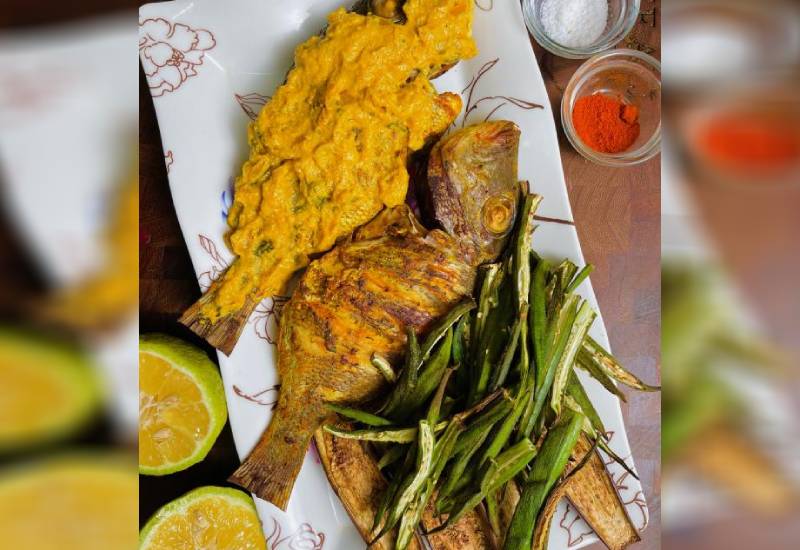 Let us make a healthy treat with this recipe. We shall not use any oil since we are going to oven grill the fish, and then make a coconut sauce with a touch of onion and turmeric and serve it with roasted veggies.
What you will need:
1kg whole fish (white snapper)
1 lime (squeezed)
1 teaspoon paprika
1 teaspoon turmeric
1 teaspoon black pepper
1 teaspoon garlic ginger mince
Salt to taste
5 to 7 whole red or green chilies
Half kg okra (lady fingers) cut into halves
2 large eggplants (halved)
For the sauce
400ml coconut cream
Half teaspoon garlic ginger mince
1 onion chopped
Half teaspoon turmeric
Half lime (squeezed)
Chopped coriander
Salt to taste
What to do:
Wash the fish well. Using a knife, make two shallow cuts on each side of the fish. Marinate the fish with the paprika, turmeric, black pepper, garlic ginger mince, lime juice and salt.
Rub the marinade all over the fish. Crush the chilies with a mortar and pastel. Now fill the cavity of the fish and the shallow cuts you made on it with the chilies — this will help further flavour the fish.
Lay the fish on a baking wire rack, put the okra and egg plants beside the fish and roast in the oven using the grill function for about 15 minutes on each side. As the fish roasts, let us make the sauce.
In a pan over medium heat, add the garlic ginger mince, chopped onions and turmeric. Sauté until fragrant. Now put in the coconut cream and bring to a boil.
Sprinkle salt and coriander, and pour in the lime juice. Cook until thick. Once the fish is ready, remove from the oven and baste the coconut sauce over the fish. Serve with the roasted veggies.
Related Topics