Home
/
Easy recipe: Egg, tomato, capsicum and cheese toasted sandwich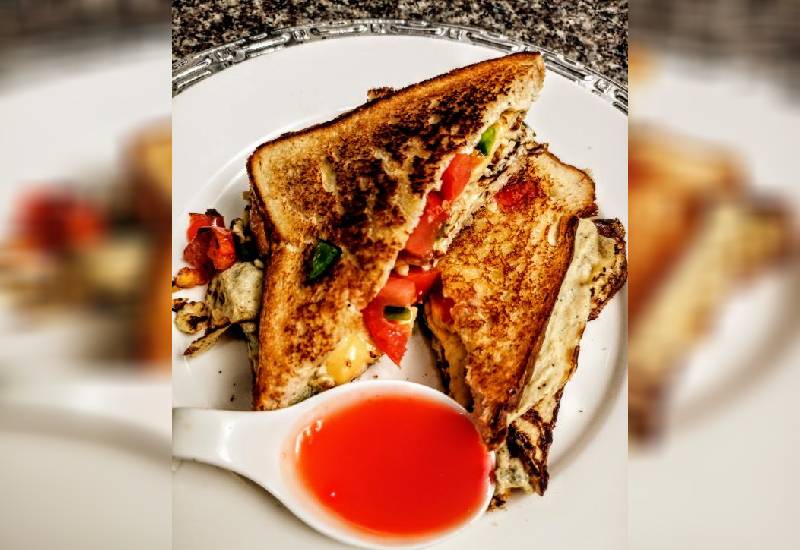 Here is my delicious tomato capsicum and cheese toasted sandwich that you can easily make using a pan at home and get a feel of a gourmet sandwich at home.
What you will need:
4 slices of bread
2 tablespoons butter
4 eggs
1 tomato diced
1 capsicum diced
150g cheese
2 tablespoons milk
Salt and pepper to taste
Ketchup to serve
What to do:
In a bowl, break the eggs and add in 1 tablespoon of milk.
Add the salt and pepper to taste then beat until well combined.
In a non-stick pan over medium heat, add 1 tablespoon of butter.
Take two slices of bread and butter each only on one side.
Once the pan is hot, add in the egg mixture. Before the egg mixture hardens, take the slices of bread and place them side by side over the egg with the buttered side facing up.
Once the egg is cooked, flip the egg with the bread so the buttered side of the slices can be toasted and the egg is facing up.
Top the centre of the egg with the diced tomatoes, capsicum and cheese.
Fold the edges of the egg into a rectangle to fit the two bread slices.
Fold the egg into a sandwich with one bread slice on the bottom and one bread slice on top with the egg in the middle. Ensure the filling remains intact.
Use a flat spatula to press down the sandwich.
Remove the sandwich from the pan, cut into two and serve with a side of ketchup.
Related Topics