Home
/
#EasyRecipe: Sorghum and mango salad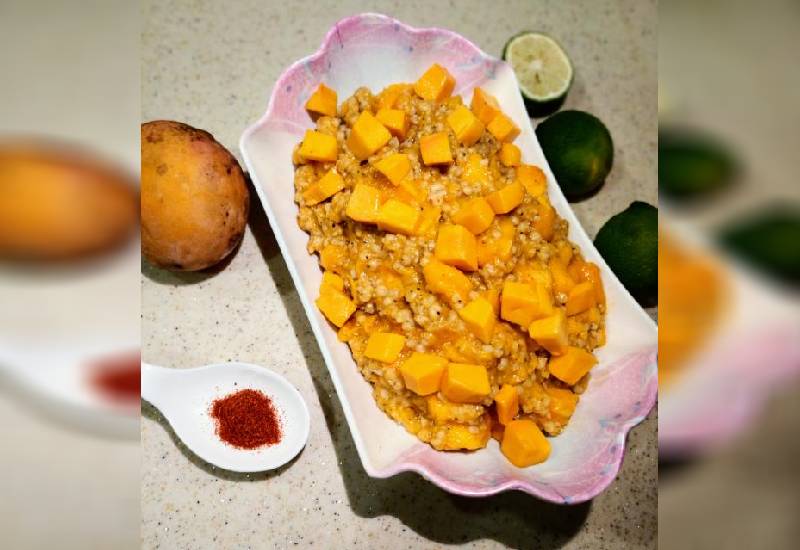 It's mango season! And what's better than a healthy yet filling and delicious salad to make use of any excess mangoes you might have? Get some sorghum from your local cereals suppllier and soak it overnight to soften it up before boiling it.
What you will need:
250g sorghum (soaked overnight)
2 cups of water
2 ripe mangoes, diced
Salt to taste
1 teaspoon paprika
Juice of 1 lemon
What to do:
Remove the sorghum from the liquid, pat the grains dry with a paper towel or kitchen cloth and crush them using a mortar and pestle or just slightly split them using a blender. You don't want to purée them.
In a pan over medium heat, add 2 cups of water and boil the sorghum until soft and fluffy. It might come out a little bit sticky but it's all good. It should separate once cool.
Place the sorghum in a bowl, let it cool completely.
Add in half of the diced mangoes and sprinkle some paprika salt on it.
Squeeze the juice of one lemon and give it a good mix until combined.
Sprinkle more diced mangoes on top a with a little bit of paprika for garnish.
Refrigerate for about an hour or so then serve it as a cold salad.
Related Topics