Home
/
Easy recipe: Slow cooked mbuzi with fried rice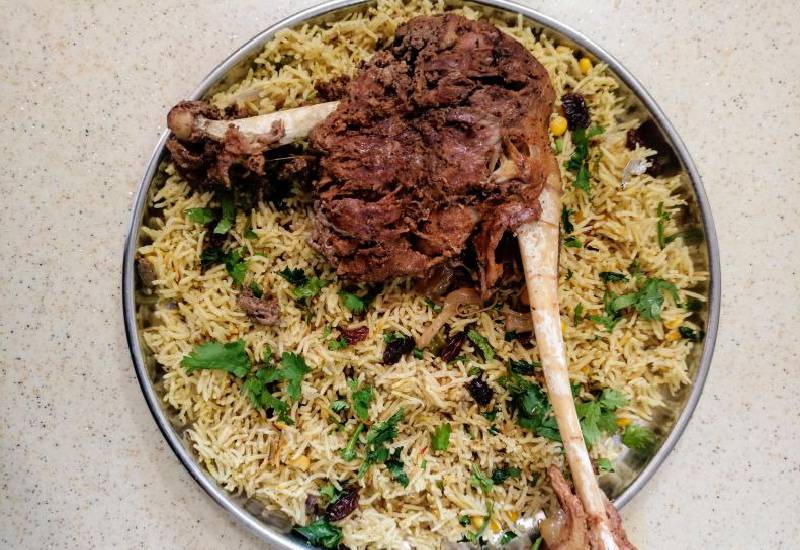 This recipe is delicious and super simple to make. It takes four hours to roast the leg but it's worth every minute.
Once cooked, the meat will be so tender, it will separate on its own.
Serve it with the fried rice and enjoy the meal with your loved one.
For the mbuzi:
1 mbuzi leg (goat) Salt to taste 1 teaspoon black pepper 1 teaspoon garlic, minced 1 tablespoon tomato paste 1 tablespoon vinegar
What to do:
Mix all ingredients to make a paste. Apply it over the leg of goat and cover tightly with foil. Let it stay in the marinade for an hour.
Bake the meat in an oven at 180°C for 4 hours or roast it over a charcoal grill. To use the charcoal grill, place the wrapped meat in a sufuria over charcoal, cover it with a lid and place some hot charcoal on top. Replace the charcoal embers whenever they die out.
Remove from oven and let it rest for about 15 mins before removing the foil and serving it over the rice.
What you will need for the rice:
2 tablespoons oil 2 onions sliced 1 sweet pepper diced 1 tablespoon curry powder 2 beef cubes 3 cups basmati rice 6 cups water 1 egg 1/2 cup sweet corn 1 teaspoon saffron diluted in 1/4 cup water 1/4 cup raisins Salt to taste
What to do:
In a pot over medium heat, add the oil and sauté the onions until golden brown.
Add in the sweet pepper and curry powder. Mix well then add 2 beef cubes. Sauté until fragrant.
Add in 3 cups of rice, mix well and then add in 1 egg.
Continue to mix then add in 6 cups of water and bring to a boil.
Add in 1/2 cup of sweet corn and salt to taste. Cook until all the water has evaporated.
Add in the saffron (optional) then 1/4 cup or raisins.
Cover with a tight lid let it steam on low heat for about 15 mins or until the rice is fluffy.
Serve with the leg of goat over a platter.
Related Topics