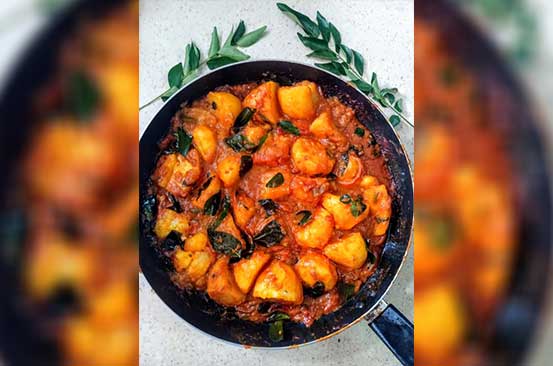 Curry leaf potatoes are a coastal dish with South Indian origins. For our recipe, we will add a little bit of sugar to bring out the tomato flavour.
The curry leaves give this dish a great punch of flavour and colour. Have it with plain bread, mahambri or even chapatis.
What you will need:
1kg potatoes, peeled and boiled
1 bunch curry leaves
2 tomatoes, diced
1 onion, sliced
READ MORE
1 teaspoon garlic ginger paste
1 capsicum, cubed
4 Green chilies
150g tomato paste
1 teaspoon curry powder
1 tablespoon oil
Juice of one lime
Salt to taste
1 tablespoon sugar
What to do:
1. In a pan over medium heat, add the oil and sauté the onions until golden brown.
2. Add the curry leaves, capsicum, garlic ginger paste, tomatoes and then the curry powder.
3. Mix well then add in the tomato paste.
4. Let it cook for about five minutes or until the tomatoes are minced then add in the whole green chilies, salt to taste and the sugar.
5. Add the boiled potatoes and mix well, ensuring you don't mash the potatoes.
6. Add a 1/4 cup of water and bring to a boil until thick.
7. Finish off with lime juice and serve as a meal on its own or with a bread of your choice.