Home
/
Wives of officers team up to help their spouses combat psycho-social challenges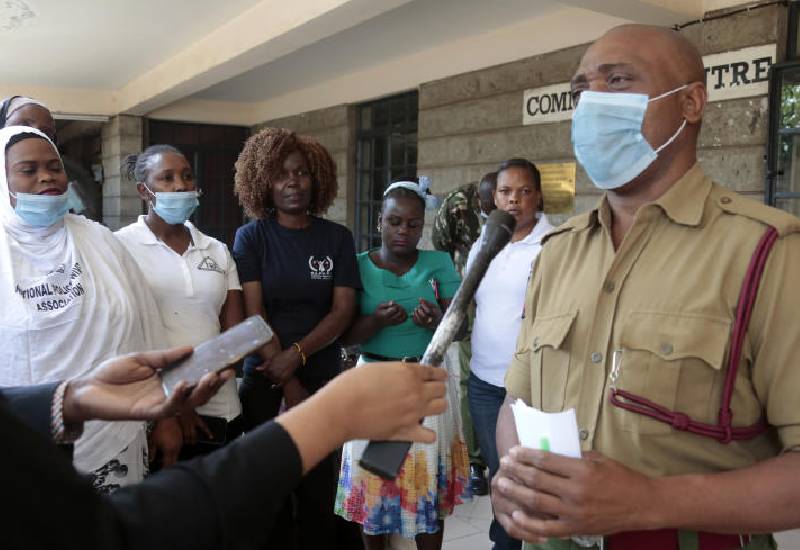 As psycho-social challenges among police officers hit a record high, wives of the officers have renewed their efforts to help their husbands cope through the National Police Wives Welfare Association (Napowa).
Napowa chairperson Sofia Ng'ikol said they started the initiative that brings together wives of police officers from across the country to fight growing mental health issues among the officers.
"Every time our husbands face challenges, either at home or on duty, they take their lives. Our aim is to reduce the stress they experience so they can handle issues soberly," Mrs Ng'ikol said.
While the association was registered in 2015, it was not until last year that the group flexed its muscles to combat the ever-increasing psycho-social challenges among police officers.
The initiative seeks to fight stigma by offering psychological support to enable police officers control stressful situations.
This involves offering counselling services to those who feel depressed or affected in any manner, as well as engaging the wives of the officers in business activities.
Last year, the National Police Service began a programme to offer psychosocial support to police officers and dispatched counsellors to counties to assist affected officers.
However, the Napowa chairperson notes that the government needs to step up its efforts to combat the challenge by empowering the association to also offer support at family level.
Ng'ikol said despite having counsellors dispatched to counties, police wives were also better placed to identify early signs of mental challenges among their husbands since they are closer.
She noted that with more training and facilitation to run their association, they could help to scale down the cases of violence, suicide and homicide witnessed among police officers.
"We are a bigger team that needs to incorporate many approaches in dealing with the psychological challenges, but we do not even have an office to run our errands. It's our request that the government supports our course," she appealed.
Sorophine Nasimiyu, the association's North Rift representative, said it was time to deal with challenges facing police spouses and their families.
"We felt that if by any chance we are no longer alive, our children would need a shoulder to lean on, and these would be resources to start them off, so we have some investments as an association," she said.
Nasimiyu added that the association established Napowa private security company, through which they employ security guards and save their earnings in a group coffer.
It also runs Napowa Kitchen, which offers catering services and also provides kitchenware to wives of police officers.
With branded T-shirts, some with the inscriptions, "Proud Police Wife," and "Heroes don't do it alone," the women help fight stigma while championing for the well-being of their spouses.
According to Dr Vincent Makokha, the Director Chaplaincy and Psycho-social support at Kenya Police Service, the nature of police officers' duties, coupled with their family responsibilities, puts them at more risk of experiencing mental challenges.
"Police officers are trained to deal with different situations. However, there are times they meet unexpected situations and when such is not dealt with in good time, they get to a state of confusion which eventually distorts normal functioning of the brain," said Dr Makokha.
Related Topics