Home
/
Woman remains hopeful despite being bedridden for 32 years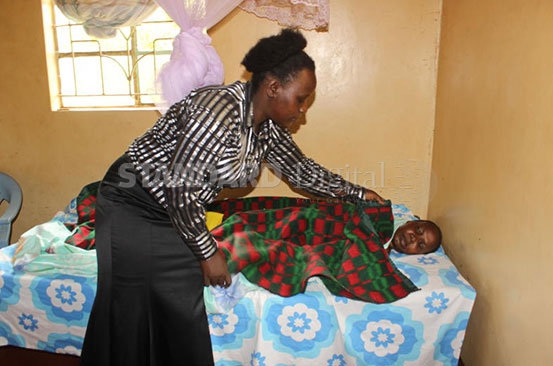 Most of us struggle when a doctor puts us on a few days' bedrest. We want to get up and moving as soon as possible, even sometimes disregarding the doctor's instructions. But for Monica Bett this has become part of her life.
The 57-year-old mother of four from Nandi County has been bedridden for 32 years as a result of a series of illnesses. She first developed a wound in her left foot for which she sought treatment at Kapsabet District Hospital. The wound failed to heal and her health continued deteriorating as her other limbs became ill.
She then visited Mukumu Mission and Kakamega Hospitals where doctors put her on three months' treatment. The treatment seemed to work but after some time, Bett's health worsened. It was at this point that doctors told her she had bone cancer and bone tuberculosis.
"I was told I had cancer of the bones and then later the doctors said that it might have been tuberculosis of the bones," she told the Sunday Standard.
She was put on further treatment and in 1992 referred to Kenyatta National Hospital. Doctors were on strike so she didn't get the chance to go.
Despite all these mishaps, Bett remains hopeful.
"I trusted God with my health, and He has kept me alive to date," she says.
In the years that followed, Bett found out that she was pregnant and, against doctors' advice, she carried the pregnancy to term. She delivered her baby safely but was left unable to move or sit up. It was at this point that she became confined to her bed.
Bett suffered a series of ailments after that. Her jaws locked, her teeth fell out and she was forced to eat blended foods. She then developed wounds on her hands and legs. Doctors at Moi Teaching and Referral Hospital diagnosed her with generalised ankylosis and paraplegia. The former results in stiff joints while the latter causes paralysis of the lower half of the body.
"Ankylosis is different from arthritis. It occurs when joints fuse by themselves and cannot move. Generalised ankylosis occurs when several joints fuse," explained Dr Kibor Lelei, an orthopaedic surgeon in Eldoret.
Since the condition has no cure, all Bett can do is manage the symptoms. She takes supplements to boost her immunity and painkillers for the pain.
"I have learned to remain hopeful. Today I fight. Tomorrow I will still fight and the day after," she says, with a smile on her face.
Related Topics