Home
/
10 chiefs sacked in fight against FGM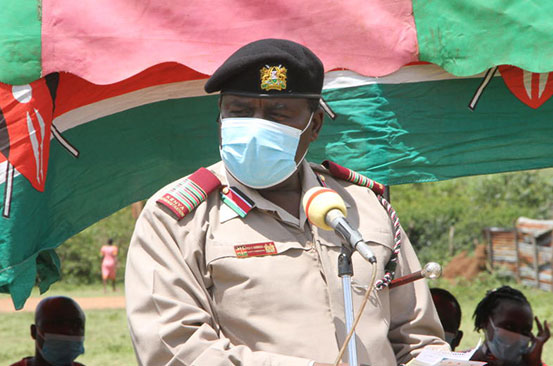 Ten chiefs from Migori County have been interdicted in the latest move to fight Female Genital Mutilation (FGM).
County Commissioner Boaz Cherotich made the announcement yesterday shortly after holding a security meeting with administrators from Kuria East and Kuria West sub-counties.
The interdictions come in the wake of increased cases of FGM among members of the Kuria community.
Cherotich expressed concerns over increased laxity on the part of the chiefs, whom he said play a crucial role in the fight against the vice.
"The message is clear. If you are not with us, then definitely we will send you home and recruit Kenyans ready to work," said Cherotich, who noted that his office was still monitoring those promoting the act.
The County Commissioner also noted that his office has identified six police officers who have been lined up for promotions due to their excellent work in rescuing girls from the cut.
Outlawed cut
"We also commend the efforts by the civil society and the media that have been out to help in the fight. We ask them to continue with the good work," he said.
Cherotich was accompanied by a delegation from the national government, which had visited the area following reports of the community publicly conducting the outlawed cut.
"Warning to individuals promoting the culture. We are charged with the responsibility of enforcing the law," said Cherotich.
Youth and Gender Affairs Chief Administrative Secretary Rachel Shebesh and Gender PS Collete Suda who were part of the delegation pledged national government support in ensuring that President Uhuru Kenyatta's directive to bring FGM to an end by 2022 is achieved.
"This is really what we need because if chiefs are not taking care of these girls then we are swimming in muddy waters," said Shebesh.
She said the national government was concerned about young girls who are subjected to the cut.
"We want to see more Kuria girls shine, but FGM is hampering them from performing well. There are clear laws to deal with parents and guardians promoting the act," she said.
Migori Woman Representative Pamela Odhiambo said she will use her office to put up more rescue centres in the area to accommodate the many girls escaping the cut.
"We will keep supporting and rescuing girls from FGM in this community," said Agnes Pariro, chair of Anti-FGM Board.
Related Topics