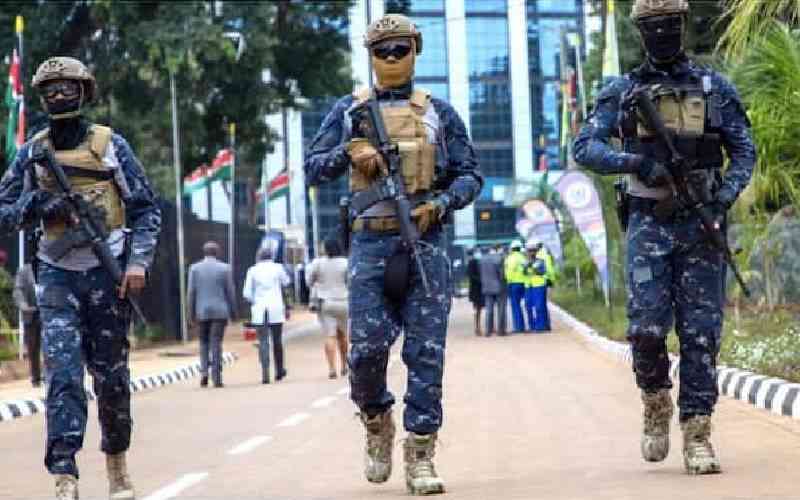 Azimio la Umoja-One Kenya Coalition party has faulted President William Ruto for allegedly making unilateral policy decisions, saying that the president is showing early signs of autocracy.
In a press briefing in Nairobi yesterday, Wiper Leader Kalonzo Musyoka said that it was "concerning" that President Ruto is issuing policy pronouncements, most of which were made during Thursday's Mashujaa Day celebration, without his Cabinet in place.
The Opposition principal faulted Ruto's purge on the Directorate of Criminal Investigations' Special Service Unit, and other decrees such as a decision to construct 100 dams, as well as divulging specifics of his plan to operationalise the Hustler Fund.
Wiper leader also took issue with Ruto's engagement with East African neighbours to pursue local fertiliser manufacturing and his promises on enhancing the Judiciary Fund, terming the moves unconstitutional as they were allegedly made without the input of the Cabinet.
"The president, as the Head of State and Government, exercises the Executive authority of the Republic with the assistance of the Deputy President and Cabinet Secretaries. The Constitution does not give the president the leeway to impose decisions on the country just because he is president," Kalonzo, who spoke after a meeting with secretaries-general of Azimio-affiliated parties, said.
"As far as Kenyans know, Ruto has no Cabinet. His nominees for CSs are being vetted by the National Assembly. Nominees for Principal Secretary positions are equally going through a vetting process."
In his Mashujaa Day speech, Ruto spelt out his plan to transform the economy. Kalonzo questioned whether Ruto was making policy decisions, which he termed "binding" with retired President Uhuru Kenyatta's outgoing Cabinet.
"Are the members of the proposed Cabinet that are being vetted already making decisions before they take the oath of office? Is Ruto acting alone? Who is making these fundamental policy decisions?" Kalonzo posed.
He accused the Head of State of unilateralism, with an alleged view of entrenching a "personalist dictatorship", which he said was a threat to the independence of institutions.
"Ruto is slowly working to increase his personal control over the regime. He is steadily moving away from the more collective and collegial leadership style characteristic of his predecessors, the Kibaki and Uhuru regimes and speeding back to the one-man personal rule of the earlier regimes during which the leader's personal thoughts, desires and dreams were made public policies, with disastrous consequences."
He also faulted Ruto's Cabinet nominees, calling them "yes men and women", warning that it was an indication that the president did not intend to be questioned.
Ruto ordered investigations into the DCI unit with a view to prosecuting officers implicated in disappearances and extra-judicial killings.
Kalonzo said that Ruto's actions would lead to unpredictability and unsustainable policies, warning Kenyans that the country risks sliding back to the dark days.
Related Topics