Home
/
Parenting
Seven ways to ask for help as a new parent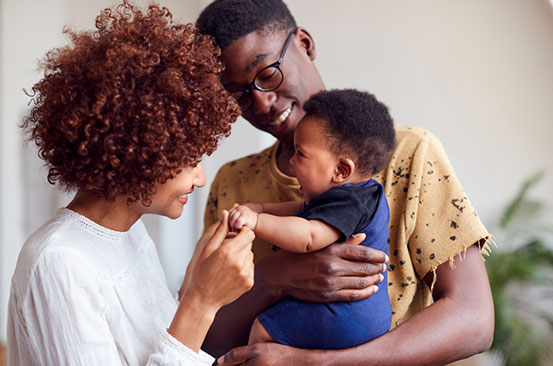 Being a new parent is not easy especially if it's your first time. It's like learning how to write or read again. There is no manual for this because every child is unique and requires different things. And until you experience raising one, it's quite hard to have it completely right from the word go.
But that doesn't make you a bad parent as long as you love your little one and are doing your best to take care of them then you are doing a great job.
As a new parent you need a lot of help. Apart from having to take care of your baby you need your body to recover from childbirth and also produce enough milk to feed them. This can be quite strenuous and can lead to postnatal depression.
But you don't have to do it alone. I know sometimes it's hard to ask for help especially if you feel that the people around you should offer it without you asking.
Fear not because asking for help is okay and doesn't make you weak or dependent on other people because you need it.
Here are a few ways you can ask for help as a new parent.
Be clear
It's important to be clear on the kind of assistance you need. Remember the people around you are not mind readers and you cannot be mad at them for not offering help if you don't ask for it.
Clarify what kind of help you need and when you need it.
Have a to-do list
Being organized is a great way of ensuring that you don't leave anything out. There is nothing as bad as going to rest then remembering you forgot to do something important.
If you have someone helping you share with them your to-do list and indicate what they need to do for you. This will help them not to be clueless.
Follow up
I know it sounds rude to ask someone who is helping you if they have managed to do what you asked them to do but it's important because people forget.
Checking if they did what you asked is not a bad thing if done politely and correctly. Just ask them if they managed to do what you asked in a polite way.
Have someone to delegate to
It's important to identify a responsible support system. If you have someone who you can trust, then delegate some of your responsibilities.
They can help take care of your baby as you run errands that need your attention or if you need to rest. Alternatively, they can run your confidential errands without you having to worry.
Try a support group
In most developed countries support groups are huge. Some of them even provide daycare for parents. Look for a support group that will provide the services or support that you need. You don't have to do this alone.
Reach out to a professional
If you don't have someone to support you at home outsource professional help. I understand that sometimes we might not have a support system but that doesn't mean you can't outsource one.
Look for a nanny who is well qualified with no police reports or criminal records. If possible, outsource from a well-known company and also carry out interviews to get the best.
Talk to your partner
It's important to talk to your partner in ways they can support you. Some just don't know what to do or how to help so it's important to hold a conversation on what you need. You are not bothering them by asking for help because the child is also their responsibility.
Related Topics