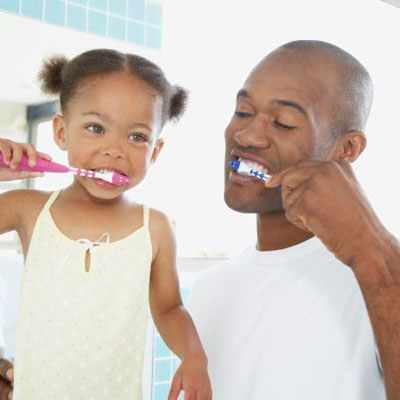 Fluoride is a mineral that helps prevent tooth decay and cavities. Fluoride is added to some water supply, toothpastes, and other mouth care products. It helps repair the early stages of tooth decay even before the decay can be seen, and makes teeth more resistant to the acid attacks that cause cavities.
Brushing with fluoride toothpaste helps prevent cavities and strengthen your teeth's enamel. Normal amounts of fluoride added to public water supplies and bottled water are safe for children and adults, but can be toxic in large amounts.
Too much fluoride swallowed during the early childhood years may cause white, brown, or black spots or streaks on the outside of the teeth, a condition called fluorosis. Fluorosis develops during the first eight years of childhood while the outer enamel layer of the teeth is still growing.
In case of stains caused by too much fluoride, a dentist may bleach the teeth to remove stains or may bond resin fillings onto the tooth to cover stains. Ask your doctor or dentist whether your child needs fluoride treatments. He or she may recommend additional sources of fluoride.
Research shows that fluoride gels, toothpastes, and varnishes reduce tooth decay in children and teens. Use these supplements only as directed and keep them out of reach of your child. In new guidelines published in the paediatrics Journal in August this year, the American Academy of Paediatrics recommended that Paediatricians should prescribe fluoride as soon as their patient's teeth emerge.
Fluoridated toothpaste is recommended for all children starting at tooth eruption, regardless of caries risk. A smear (the size of a grain of rice) of toothpaste should be used up to age three years. Parents should dispense toothpaste for young children and supervise and assist with brushing.
Fluoride varnish is recommended in the primary care setting every three to six months, starting at tooth emergence. Over-the-counter fluoride rinse is not recommended for children younger than six years because of the risk of swallowing higher-than-recommended amounts of fluoride.
Photo: mindbenderent.com