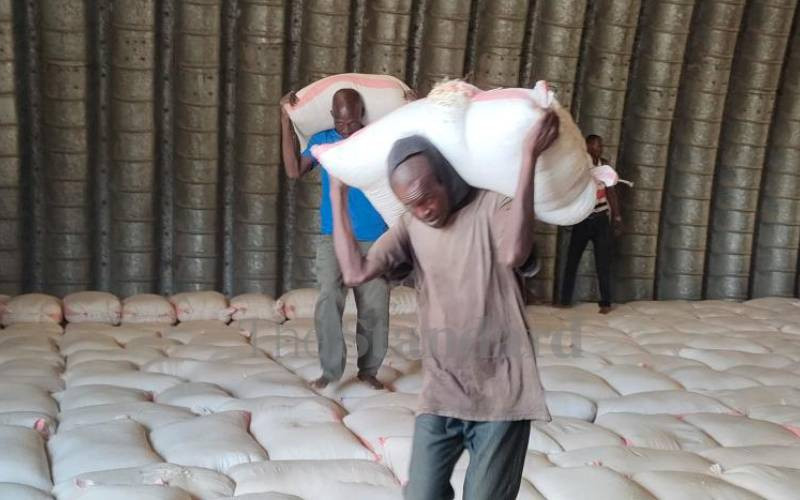 Farmers in North Rift have been left disappointed as maize prices fall.
A 90kg bag now sells at between Sh4,500 and Sh4,800, from between Sh5,000 and Sh5,300 – only two months ago.
Farmers in Uasin Gishu County on Tuesday attributed the drop to maize glut. They said that parents keen on raising school fees had flooded the market with the produce.
The oversupply, they said, had also been caused by farmers out to raise money for land preparation and purchase of inputs ahead of the next planting season in March.
The farmers also claimed that some millers had stopped buying their produce in anticipation of imports, expected next month.
"Farmers are now confused since millers no longer purchase their produce. They now deal with businessmen who offer lower prices," said Thomas Bowen, a farmer from Turbo.
"Only one miller is still purchasing from us, but in low quantities," said Bowen.
He said the produce is being traded in the open market in Eldoret town and that some traders offer as low as Sh4,000 per 90kg bag.
He said that most of the grain available at the moment is from large-scale farmers who have finished harvesting and drying their produce.
Ben Sirma, a large-scale farmer from Kipsombe in Uasin Gishu, said although they have quality maize produce, prices are dropping fast at the rate of between Sh50 and Sh100 daily.
"Most millers are not purchasing maize at the moment and some farmers have resorted to taking back the produce due to poor prices. I know a farmer who sold at Sh4,200 per 90kg bag because he had stayed for long in the open market and he wanted to raise school fees," said Sirma.
Sirma noted that maize production was expensive and tedious and it was unfortunate that prices were dwindling.
"Large-scale producers still have large stocks of maize. It is frustrating that prices are dropping yet farmers spent as high as Sh7,000 per 50 kg bag of fertiliser during planting season. Some farmers resort to keeping their produce rather than selling at low prices" pointed Sirma.
Kimutai Kolum, also a large-scale farmer from Soy, said prices have dropped by over Sh1,300 per 90 kg bag of maize that retailed at Sh 5,300 between November and December last year.
"Millers are taking advantage of farmers who are in a rush to raise school fees and basic needs of their children as schools and colleges open. Some could also be anticipating cheap imports expected from February as promised by the government," said Kolum.
Kolum noted: "Most parents are preparing their children who are going back to school, joining junior secondary school and Form One next month and they have no option but to sell their maize."
He appealed to the government to consider postponing importation of maize until local produce has been exhausted.
Jeremiah Kosgei also noted that most of the millers were no longer purchasing maize.
Kosgei said the millers could have purchased in large quantities towards the end of last year and want to process the stocks, or they are anticipating subsidised imports.
"Farmers are now stranded as prices drop to between Sh4,300 and Sh 4,500, which they have rejected," Kosgei told The Standard on Tuesday.
The development comes even as The National Cereals and Produce Board opened its doors last week to purchase produce on behalf of the World Food Programme (WFP) at Sh5,100 per 90kg bag.
According to NCPB corporate affairs manager Titus Maiyo, the board will buy 30,000 bags of maize on behalf of WFP from the Eldoret depot.
A source said yesterday that the quantities could be achieved within the next two weeks since the standards set for the produce by WFP are high. Farmers whose produce do not meet the set standards are turned away.
The government had asked farmers to sell their produce as imports produce could arrive next month.
Farmers had however protested that the time given was too short because harvesting and processing of the maize were tedious.
This is not the first time maize farmers in the region are being confronted by poor prices. This is something they experience year in year out yet no lasting solution has ever been found.
What remains to be seen is whether the government will give in to the farmers' pleas to postpone importation of maize, set for next month, until all the stocks held by local producers are exhausted.
Related Topics