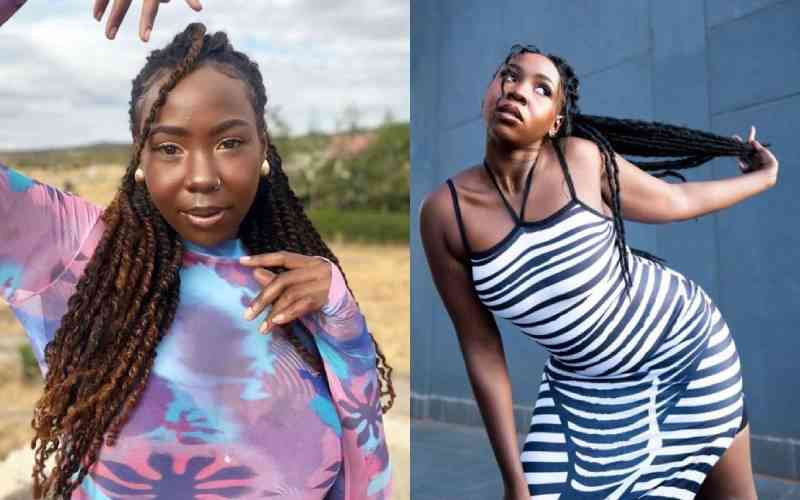 If you haven't had the chance to watch the compelling and unfiltered interview featuring comedian and the newly self-proclaimed self-care queen, Chebet Ronoh, on the popular YouTube channel LNN, hosted by the award-winning Lynne Ngugi, you're in for a treat.
This episode, released on September 2, has already amassed over 170,000 views in just a few days. It showcases a side of the 23-year-old funny woman that the world has never seen before, where she lets her guard down.
Lynn approaches Ronoh with all the questions that many of us have been curious about, but she does so with grace and sensitivity. Their dynamic feels like eavesdropping on a long-overdue heart-to-heart conversation between an older sister and a younger sister.
This is a brand new Chebet Ronoh, quite different from the one I interviewed seven months ago. In this interview, she's raw and serious, freely sharing her thoughts and listening intently, unafraid to ask questions herself. This is "Deborah," Ronoh's first name that many might not know.
PROPHETESS
She says, "Although my mother never found out my gender during pregnancy, she always knew she was having a girl and that the girl would be named Deborah, destined to become a Prophetess."
Ronoh first entered our lives with her humorous and relatable content when she was just 18 years old.
Fast forward five years, and she boasts nearly one million followers across all her social media platforms. She started her comedy journey in high school, armed with only a Samsung phone and a simple editing application. She said, "Start with whatever you have and grow from there. Don't overthink it; just be yourself because people connect with authenticity."
Ronoh has thrived as one of the youngest influencers, achieving numerous milestones, including becoming one of the youngest radio presenters on two major radio stations and collaborating with international brands like KFC and Carrefour.
MULTIPLE LIVES
At just 23, this content creator feels like she's already lived multiple lives. She opens up about overcoming self-sabotage and shares her struggle with imposter syndrome, which led to missed opportunities, saying:
"I had to accept where I was in life, including my past mistakes and flaws, in order to change my behavior. I was so scared of my own light that I would procrastinate on opportunities, and sometimes I wouldn't even show up because I didn't know if I could handle my own success. People thought I was acting proud, but I genuinely felt like I did not deserve these opportunities I was getting. I doubted my talent, yet everyone else could see it."
Ronoh also discusses how cyberbullying impacted her self-esteem and mental health, revealing that negative comments fueled self-doubt, which she initially coped with using alcohol.
She says: "Alcohol was a real creeping monster in my life. It started like every other young person who wanted to have fun, but it turned into a coping mechanism, and I would take it too far. For a year and a half, alcohol was ruining my life. It stopped being fun; instead, I would do it to numb myself."
SUICIDAL
"My physical health and even my appearance were deteriorating, and my relationship with myself had reached a point where I had felt quite suicidal. I felt like if I didn't take that step to go to rehab, I would not recover from the pit I was in."
As we approach Suicide Prevention Week, starting on Sunday, September 10, Ronoh shares the signs she recognized in herself that led her to seek treatment at a rehabilitation facility, emphasising that seeking help is nothing to be ashamed of.
She encourages others, saying, "Ask for help from your family, from your friends, and if that's not enough, take yourself to rehab, where they're equipped to handle these issues. You'll be surrounded by people on a similar journey, and together, you can overcome these challenges."
Regarding comparisons to fellow content creator Elsa Majimbo, who achieved international fame around the same time, Ronoh has a new perspective: "People used to compare our content and say I should be where she is. Now, I see it differently. If she can succeed, my time will come too. I can't blame Elsa, although I might have inspired some of her content, but she seized the opportunities when they came. She embraced her light, and I didn't."
KIBE FRIENDSHIP
Regarding her surprising friendship with the controversial Andrew Kibe, she admits that it was an unlikely pairing of friendship with the former radio host. However, she says that he had her back, stating:
"I don't agree with his content, but he was the only one willing to guide me in this complex industry. He was genuine, kind, and supportive. He was supportive even when the ladies in the industry were silent or even trying to put me down. It was Kibe who was showing me how to make money off of my content at the time."
She concludes by emphasizing the positive impact of maintaining a routine, including regular workouts, prayer, gratitude, and sobriety. With one month of sobriety under her belt, she is committed to her personal growth journey. Ronoh sums it up with a powerful message, saying:
"I've never done this life thing before; I'm learning on the job. We just have to keep trying again and again. I want to write a book, focus on my podcast, and return to YouTube, overcoming the fear that held me back before."
Related Topics