Azimio leader Raila Odinga and Martha Karua laid down their reasons as to why the August 9 presidential election was not free fair or verifiable.
According to Raila and Karua, the technology deployed by the electoral agency was "inherently corrupt" and manipulated by third parties.
Lawyer Philip Murgor, who was appearing for Raila and Karua, told the seven judges of the apex court there was proof that the Independent Electoral and Boundaries Commission's (IEBC) servers were infiltrated by unauthorised persons. He further argued the system deployed by the commission to run the August 9 election was not secure which opened the entire process to manipulation.
According to Murgor, the affidavits by John Githongo, George Njoroge, Directorate of Criminal Investigations, and Commissioner Justus Nyang'aya lead to a conclusion that IEBC servers' infiltration was an internal job adding that several authorised persons were illegally authenticated to access the system.
At the same time, he said, there was remote access to the servers.
"There were about 50 people who were accessing servers at Karen suburbs and they were intercepting results and manipulating them," he said adding that the logs used to illegally infiltrate the IEBC system were from the commission.
According to Murgor, among those who had illegal access include Chebukati's Personal Assistant Dickson Kwanusu.
"The personal assistant of the chairperson Mr Dickson Kwanusu is granted access. If we had not brought the logs, we would not have known Mr Dickson Kwanusu had access to the servers," he argued.
He asserted that although one could not trace Chebukati's fingers inside the cookie jar, his palms were in through Kwanusu.
"Although we cannot see the respondent's (Chebukati) finger, we see his palm through Dickson Kwanusu," argued Murgor adding that Kwanusu allegedly verified 1,743 form 34As and one Abdidahir Abdi was also illegally granted access and verified 659 form 34As.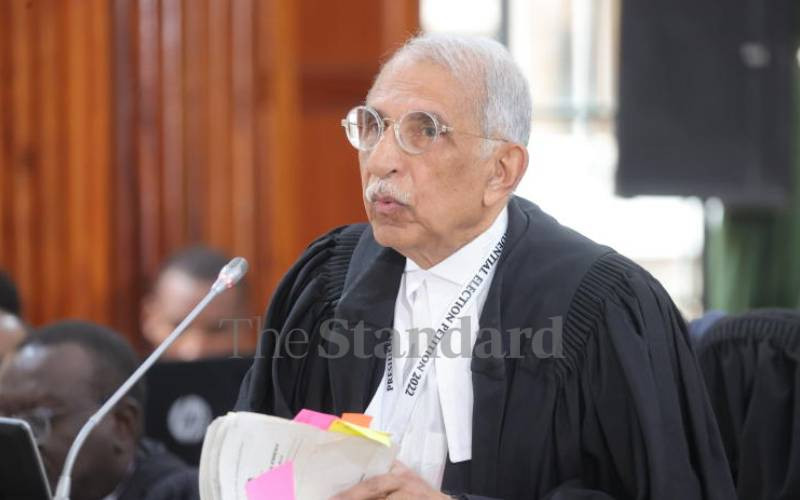 He said: "What we have before the court is clearly a corrupted RTS system, which does not need the demands of the constitution and the Act. It was corrupted by corrupt IEBC officials."
The senior lawyer was of the view that forms 34As sent were in CSV format, making them easy to manipulate and upload to the system.
"A form 34c was being generated with the desired result and it seems there was a process going backward where 34B and 34A are generated to get the result. My hypothesis from where I stand, is clearly a result of the first respondent was being arrived at before a tally is in and work was being done to try and fit B and C into the result," submitted Murgor.
The Supreme Court heard that as of August 12, 2022, at 15.48 hours, a form 34C had already been generated, two days ahead of the final announcement.
He also argued that Smartmatic Limited, the firm that had been hired by IEBC to run its technology framework, was also involved in controversies surrounding election management technology in the Philippines and Venezuela.
Raila and Karua's other lawyer Pheroze Nowrojee argued that Chebukati conferred himself powers that were not in law.
Related Topics