Home
/
Lady Speak
Ready to play wife? A few things you must get right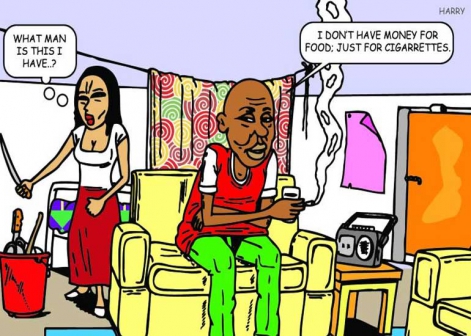 My fellow women, what's the number one thing you look for in a man before you painfully decide to try and spend the rest of your life with him? Personally, I always look out for protection first, the rest can fall into place as they want in the order they deem fit. I used to put love first until the day my Ben bolted away leaving me in the hands of the General Service Unit in his house after him and his fellow students went on strike in their polytechnic. Little did he know he was running straight into danger. The next thing I saw on that day was his powerless self being bundled into a police Land Rover. If only he stayed behind and protected me on that day! Maybe the slaps I received then could have been prevented.
Anyway, like I said, that was the last time I put love ahead when hitting the relationship path and swapped it with protection. That's also the last time I dated a student struggling with life to the extent of living in a house whose door could be sent flying with one single kick. If your door can be kicked open, my friend, don't fall in love with me.
By the way, when I say protection, I mean from you! Not from a stiff chested fellow in form of security to follow me around like a shadow. If you cannot do it on your own, follow Johnny Walker to whichever destination he has been heading to since God knows when.
So I ask again my fellow beauties, what do you look out for first in a man? I ask this because I have a very close friend of mine who decided to put responsibility ahead of everything and forgot about the void it would cause her. She is now stuck with a very responsible man financially who rarely spends the night in their home.
She has now turned to a miserable wife who cries almost every night in her six by six mahogany bed as she listens to gospel songs sipping through the powerful woofers from her 5 CD changer as she sips expensive wine. I am not saying you should not put responsibility ahead in a relationship. All I am trying to say is, before you put anything ahead of anything in marriage, be ready to live with the consequences just like I do. I have a very protective partner who says 'I love you' only when he is in some sort of danger or crisis. He has made me turn into an 'evil' woman who keeps praying that her man is ever in a crisis. But I love him from here to end of life and nothing will come in between us. Not even these women who keep calling him late in the night making his phone 'busy' for hours! God is seeing you and will deal with your network coverage accordingly! You annoy me more than Osama Bin Laden!
Then I have another friend who put love way much ahead of everything until the day she had no option but to cook the love for dinner and feed it to her children. That's when she realised how light a meal love was, especially if it was taken with no other accompaniment. By midnight, everyone was awake dying of hunger. This period almost ended her marriage! This is one of the reasons I urge women to be stable enough emotionally and financially before trying to play the wife role. It's a very tough role and if you walk into it bare chested like you are going for a boxing match, that's exactly what you will get, boxing......and a thorough one for that matter.
So ladies, before you say 'I do' make sure 'You do' or else you will be 'done'.
Related Topics