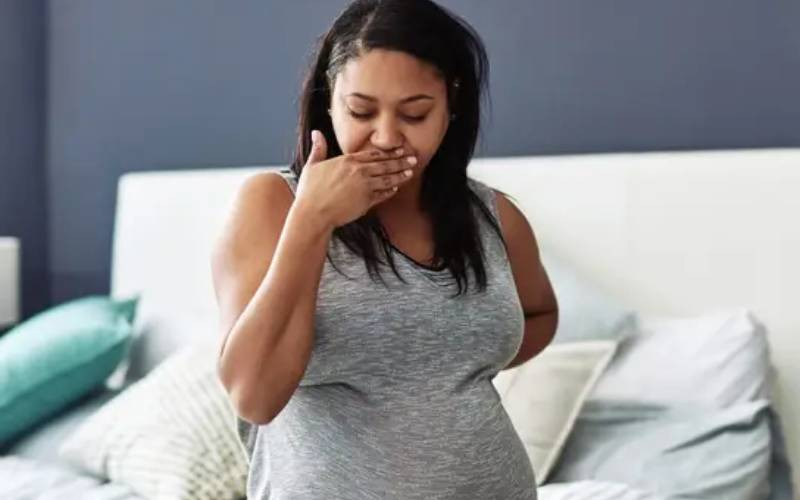 Excessive saliva build-up in the mouth also called ptyalism gravidarum in pregnancy is one of those strange pregnancy symptoms some moms-to-be experience. It is relatively rare, but it exists.
According to experts, this does not happen by chance, there are various reasons behind and it varies from one woman to another.
According to National Childbirth Trust (NCT), a pregnant woman with ptyalism gravidarum produces 1-2 litres of saliva daily which usually resolves during the second trimester, but in some cases, it persists throughout the pregnancy.
Symptoms of this condition range from, massive saliva volumes, swollen salivary glands, sleep deprivation, emotional distress and social embarrassment among women.
Antonina Mootian, a nutritionist at Mathari National Teaching and Referral Hospital says that, hormonal changes during pregnancy result in ptyalism gravidarum in the sense that there is an increase in the levels of the hormone progesterone.
Progesterone can affect the muscles in the body, including those in the mouth and throat. This can lead to relaxation of the muscles that control saliva production, resulting in an increase in the amount of saliva produced hence the need to spit often.
'In addition to that, some pregnant women experience nausea and vomiting, which can also increase saliva production. This is a common symptom that you will experience in the first few weeks of pregnancy. The excess saliva can accumulate in the mouth and cause the feeling of excessive salivation. Women with hyperemesis gravidarum try to swallow less and hence spit more, ' explains Mootian.
'There are a number of drugs used during pregnancy such as IFAS or IRON SUPPLEMENTS, that helps to boost the mother's haemoglobin and support neuronal development of the foetus. These drugs have some side effects most significantly excessive salivation and even nausea and vomiting, says Doctor Felix Otieno, working with Rapha Family Hospital Kitere, Migori.
Dr Otieno further makes it clear that heartburn can result in ptyalism gravidarum. Heartburn is a common problem during pregnancy so as the uterus expands to accommodate the baby and pushes the stomach, it can cause the stomach to push its contents into the oesophagus leading to a bad irritating and burning sensation. As a bodily reflex, the oesophagus causes the glands to produce more saliva in order to soothe the stomach acid and burning sensation.
According to Eunice Moraa, a registered clinical officer in Nakuru, if pregnant women suffer from oral infections such as tooth decay, cavities, dental carries or so, there is a chance of salivation increasing in such a scenario and being excessive. That is why optimal oral health is essential for pregnant women.
Apart from that, Moraa says that some pregnant women can produce saliva excessively due to chronic health conditions that affect muscle control. When you have impaired muscle control, it can negatively affect your ability to swallow. This leads to saliva build-up and always results from an enlarged tongue, Cerebral Palsy and even stroke.
'Pregnancy is a time when some women experience physical discomfort and mental anxiety. They tend to swallow less saliva when they are anxious, and this feels like excessive salivation is being produced. This mostly happens in the latter stage of their pregnancy, ' Moraa sums up her statements.
Experts say that currently there is no proven cure for ptyalism gravidarum but there are certain options that one (a pregnant woman with ptyalism gravidarum) can use to lessen the production of saliva in their mouth. According to Dr Otieno,
Taking pregnancy drugs at night plays a significant role in the course of managing symptoms of ptyalism gravidarum. Prenatal vitamins and iron supplements can worsen morning sickness and excess saliva production, thus taking them at night before going to bed reduces ptyalism.
In addition to that, he explains that drinking a lot of water is crucial. Among several advantages of taking more water during pregnancy is the management of ptyalism. The water loosens the saliva and enhances swallowing. It also enhances oral hygiene and keeps the body well hydrated thus reducing excessive salivation.
'Keeping your teeth and gums clean and healthy can help reduce the excess saliva in your mouth. Brushing your teeth after eating can also decrease nausea and vomiting, which is known to cause excess saliva. Using toothpaste with a minty flavour will also help calm your stomach, ' advises Mootian .
He further says that avoiding trigger food can keep away excessive salivation during pregnancy. Certain foods, such as spicy or acidic foods, may stimulate saliva production. Avoiding these foods can help reduce excess saliva also eating small, frequent meals may help reduce regular spitting since large meals can trigger the production of excess saliva.
'For pregnant women with ptyalism gravidarum, to manage the symptoms that accompany it, should try to make some dietary changes such as removing carbohydrate-rich or starch-based from their diet and it's instrumental to visit a dentist and check for any infection that might be present in their mouth', Moraa exposes.
'While spitting temporarily relieves a bad taste in the mouth, spitting may also provide some temporary relief from the discomfort of nausea and vomiting. As a result pregnant women who experience spitting, keep doing it regularly to get this relief. Additionally, some women experience nausea and vomiting during pregnancy, which causes excess saliva production and a desire to spit often making them spit every time, ' concludes Mootian.
Related Topics