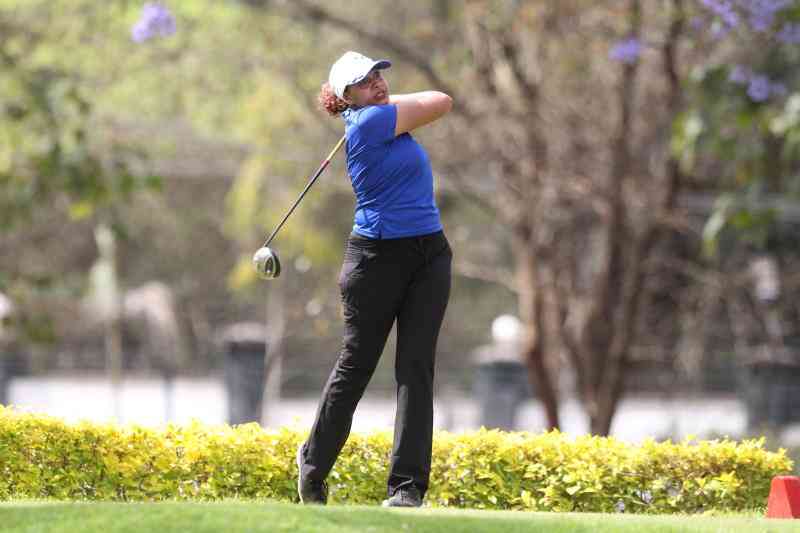 Over 200 players battled in the 36th edition of the Kenya Institute of Bankers Interbank Sports Golf Day in Nairobi yesterday.
Among those who took part in the tournament staged at the par 72 Muthaiga Golf Club was the Kenya Open tournament director Patrick Obath.
Obath was among the early birds who teed-off in the wee hours of the morning.
Also held alongside the hotly contested event was the golf clinic that attracted over 50 beginners and a chipping competition that gifted the winners with very exciting prizes.
Obath, who raked in 16 points in the first nine and 12 in the back nine for total 28 stablefords in the main competition, hailed the golf clinic saying the initiative is one of the many ways to create awareness about the Magical Kenya Open (MKO).
The MKO is a prestigious European Tour series event that is hosted by the country annually.
"As Kenya Open Golf Limited, we hail this training for beginners, it's away of increasing the number of golf players in the country.
"There is need for many people to embrace the sport as this is the only way to ensure that Kenya has a potential to lift the elusive MKO trophy.
"We might not see a Kenyan winning the Open in our time but when we put our house in order, our children and grand children may witness the crowning in the near future," Obath told Standard Sports.
During his quest for glory on the lush Muthaiga Golf course, Obath had a nightmare in one of the challenging holes where he did eight strokes instead of three.
Likewise, Bring Global commercial director John Milya found the beautifully kept greens very tough but his frustrations were lessened by the exciting four ball company he had on the fairways.
"It was such a coincidence that we all met after so many years, then we all happened to be in the same teeing batch," Milya underscored.
"Everyone had a lot of stories as we reminisced on the good old days, before we knew it we had already cleared the challenging 18 holes. The walk on the course seemed like a minute."
Jackline Waithaka of Co-Op Bank, playing off handicap 32, was happy to have brought her 'A' game into the tournament which earned her 19 points in the opening nine and 15 in the back for total 34 stablefords.
"I found the course lovely, but my only challenges were the water barriers especially in holes 2,11 and 13,"Waithaka stated.
"Interestingly, I was here for fun but I'm surprised to have played better.
Related Topics