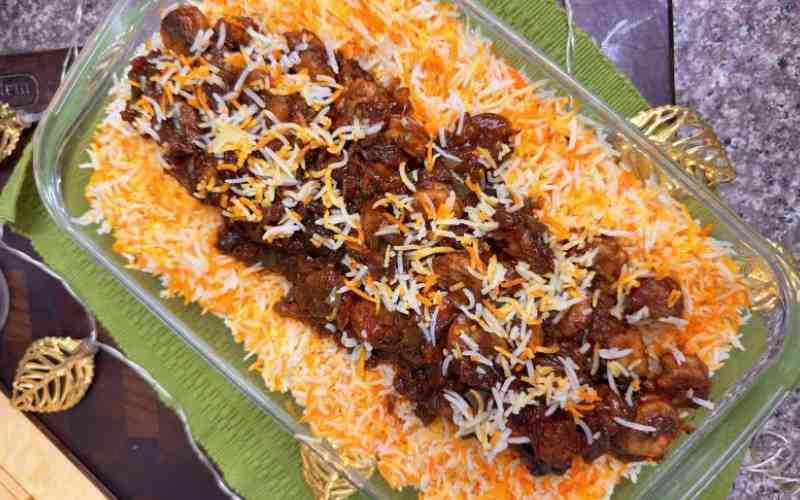 Today we make biriani, a mixed rice dish originating among the Muslims of South Asia.
Ingredients:
1 kg shrimp prawns, deveined and cleaned
Juice of 1 lime
1 teaspoon black pepper
Salt to taste
1 teaspoon garlic/ginger mince
2 tablespoons vegetable oil
Method:
Marinate the prawns with the above ingredients except for the oil.
In a pan over medium heat add the oil and sauté the prawns until they turn orange and curl. Remove from the heat and set aside.
For the sauce;
Ingredients:
1 tablespoon oil
3 onions, sliced
2 tomatoes, diced
2 capsicum diced
1 teaspoon garlic/ ginger mince
1 tablespoon whole pilau mix
1 bay leaf
2 beef bouillon cubes
1 tablespoon tomato paste
1/2 cup water
Method:
Using the same pan add the oil and sauté the onions until golden brown. Add the garlic mince and pilau mix and cook until fragrant.
Add the bay leaf and tomatoes and mix until the tomatoes start to mash. Now add the capsicum, mix then crumble in the bouillon cubes.
Stir with a spatula, then add the tomato paste and mix well. Add the water and cook until the oils bubble up.
Add the cooked shrimp/prawns, stir and add the lime juice. Boil until the sauce thickens, and layer the shrimp sauce with the rice.
For the rice;
Ingredients:
2 cups basmati rice
3 cups water
1 beef bouillon cube
1 teaspoon oil
1/2 teaspoon yellow food colouring
Pinch of saffron
Method:
In a pot pour in the water, and add the washed rice. Add the oil crumble and bouillon cubes and cook over medium heat until the water evaporates.
Mix the yellow food colouring with some water and add the saffron to the food colouring mix. Pour the mixture over the rice and cover the pot with a tight lid.
Reduce the heat to low and steam the rice until it is fluffy. Once the rice is cooked layer it with the shrimp curry. Enjoy!
Related Topics