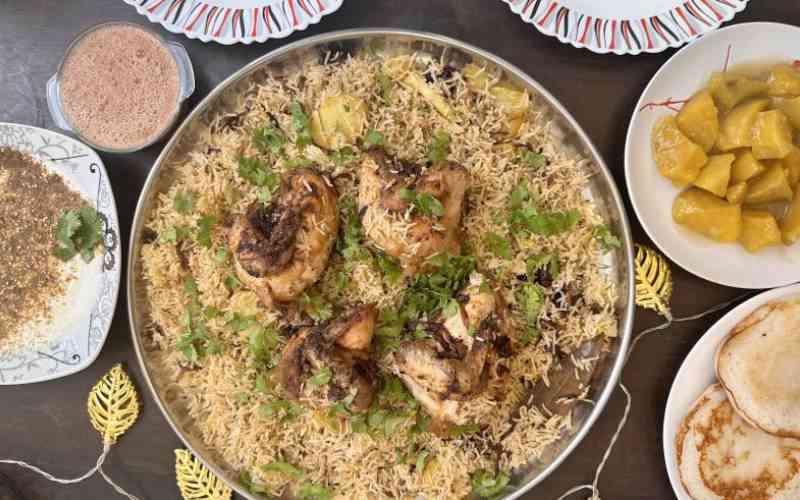 This herbed chicken broth rice is a winner.
Ingredients:
3- 4 tablespoons vegetable oil
4 chicken breasts (quarters with wings)
1 teaspoon coriander powder
1 teaspoon cinnamon powder
1 teaspoon black pepper
1 teaspoon garlic ginger mince
1 bay leaf
2 dried lime (sun-dried) optional
3 & 1/2 cups water
Salt to taste
2 cups basmati rice
Pinch or saffron (optional)
1/2 kg potatoes, sliced and fried
4 onions, fried until golden
In a pot over medium heat drizzle the oil and sauté the chicken breasts. Add the coriander powder, cinnamon, black pepper and garlic ginger mince and mix.
Keep flipping and turning the chicken so that the herb flavours distribute well and infuse. Now add the bay leaf and dried onions and mix.
Pour in the water and salt and simmer for a few minutes. Remove the chicken from the liquid/broth and place it in a casserole dish, and roast it at 180°C for 30 minutes.
Retain the broth, and add the washed rice to it. Stir and add the saffron, then cook until all the liquid is evaporated.
Cover and steam for about five minutes open. Add the potatoes and roasted chicken, and sprinkle in the fried onions.
Cover and steam for another 10 minutes on low heat, then fluff up the rice. Serve with salad or thick plain yoghurt. Enjoy!
Related Topics