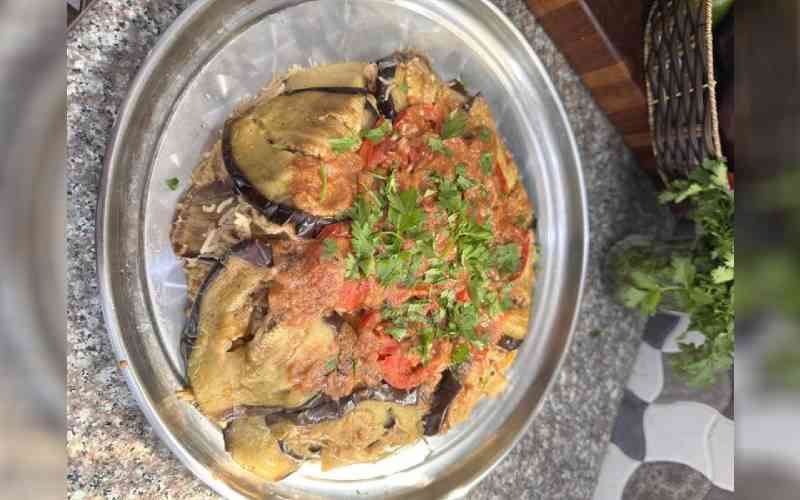 This Maqluba is a win for sure, so delicious and different that your family will be amazed by the flavours, and make good use of the vegetables at home.
WHAT YOU WILL NEED:
Vegetable oil for frying
4 large eggplants, sliced and fried until golden
2 onions, sliced and sautéed until slightly golden
FOR THE CHICKEN
2 tablespoons oil
500g boneless chicken, cubed
1 teaspoon black pepper
1 teaspoon paprika
1 teaspoon garlic mince
Salt to taste
Marinate the chicken with the above ingredients except for the oil let it stay in the marinade for about 1 hour and then pan sear the chicken in a non-stick pan over medium heat using the 2 tablespoons oil until golden brown, once cooked set aside.
FOR THE POT PREP:
3 tablespoons oil
3 tomatoes, sliced
2 carrots cut into strips (julienne)
2 cups basmati rice (washed)
3 cups chicken broth or stock (substitute with water)
Salt to taste
Method:
In a pot pour in the oil arrange the tomatoes, put the fried eggplant slices and layer the carrots on top of the eggplants. Add the cooked chicken and fried onions.
Now layer the washed rice in the middle, pour in the broth and adjust the seasoning with salt. Mix well.
Cook over medium heat until the liquid evaporates, reduce heat to low cover and steam for another 15 minutes, flip the pot upside down, and serve.
Enjoy.
Related Topics