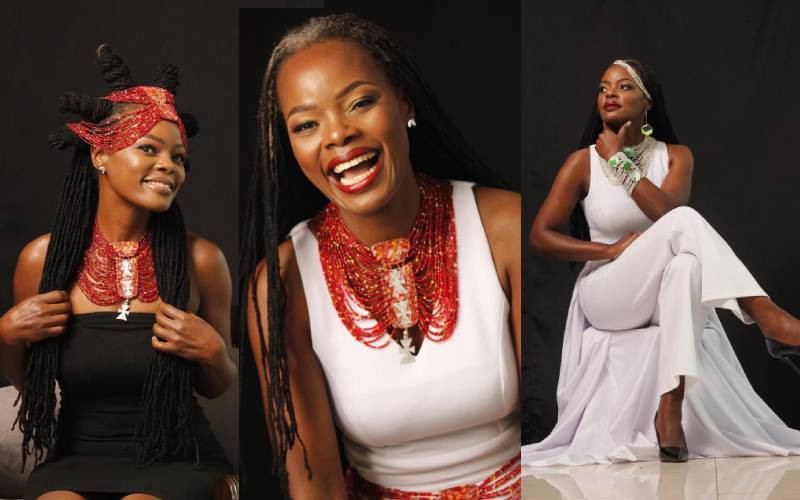 When it comes to fashion, Akinyi Odongo, OGW, is a name to reckon with. She has dressed people of note, from former first lady Margaret Kenyatta since 2013, to Azimio party deputy Martha Karua, and many other dignitaries.
When former US President Barrack Obama visited during his summit, she was the only fashion designer that participated at the United Nations and exhibited her work. Her work in fashion also saw her receive the Order of the Grand Warrior (OGW) award last year.
It shouldn't be a surprise, therefore, that once again, she was the only individual from the fashion industry who was recently appointed as part of the newly unveiled Talanta Hela committee, but how she ended up there is a lesson in courage and in the power of speaking up.
In an interview with Standard Group's Charles Otieno for the KTN Show, History Makers, Akinyi tells the story of how the appointment came about.
"Last year in November there was the Creative Summit that was done at the Kenya National Theatre. The CS was the guest of honour and it was a space where creatives were supposed to put in their views and talk about their challenges and the things they wanted the ministry to get involved in," she says.
She was present at the meeting as somebody had invited her, but the more she listened, the more surprised she became – the conversation was mostly about music, yet the creative industry entails a lot more than that.
"Of course, the problems in the music industry are genuine problems and they are great concerns but then I asked myself, 'Creative summit?' The creative economy is quite wide - there is music, poetry, videography, photography, fashion, and modelling - it is a lot. It is everything art, not just music," she says.
She spoke for a while, with the Cabinet Secretary listening keenly, taking notes and addressing all her questions.
"He said, 'Akinyi, my office will be ready to work with you. I would like to know more about the fashion industry. I would like to know what is it that we can do to make things different. We need to involve everybody. We need to have the photographers,'" she remembers. "
For me, that was a turning point. Just by doing that, I do not think the CS forgot me."
Akinyi was born the second child in a family of six children in Rang'ala village, Siaya county. She was a creative child whose heart was in everything artsy in school, from dancing to drama to basketball. She, however, felt like no one understood her because she tended to be interested in unconventional things like drawing and painting.
"My mum was a tailor in the village where we stayed and she used to make clothes for other people, so in that process, I would also get in and use the machine and create some little clothes out of the leftovers and that's where my interest of creating things started," says.
Ironically, she was not good at Home Science and did not like the subject, so she thought that her profession was going to be music and drawing, and she studied art in high school.
Always one for the unconventional, she went for military training for two and a half years after high school.
"I was in Gilgil, did all the serious basic training, climbing mountains and all that. After two and a half years I left and decided to choose other paths. I wanted to do fashion and I couldn't see how I was going to do fashion in the military," she says.
After becoming a mother of two at a young age, she was a stay-at-home mum for a while, then went to fashion school.
"I went to school with much younger girls who were just from high school. It was not an easy and easy journey for me juggling all those things while he at the same time but I did very well in school in regard to being among the best students in the college and presenting very good work, in as much as I was not able to afford materials for the projects," she says.
She would go to Kibera which was not far from where she lived, wash and iron the clothes then use them for her projects, but at times she would be kicked out of school for lack of fees. Afterwards, she looked for work, more interested in gaining knowledge than in money, as people would tell her they were not hiring but were willing to let her learn.
"Then I would walk to town, go to offices. Because I did not have a shop then, I would do some stitching and go and fit it. Like if I was to come to you today, I would give you, go fit, then bring it to you. I would check if there were any adjustments to be done, go back with it home adjust it and move on," she says.
"At some point, we were in a two-bedroomed house. My children's bedroom was a bedroom cum production workstation. At night I would stitch. I used to say that the machine was like a lullaby so my children would sleep all through. My clients would try on the clothes in the sitting room, go to the toilet to change, then I would check the clothes and repair them."
Her business grew slowly, eventually moving to a room at the back of a chemist where she had one tailor, then eventually got a whole shop to herself, moved to a bigger shop, then got an extra shop, growing steadily.
Despite that, she had to contend with the perception that jobs like hers and carpentry were meant for people who had failed in school but she tackled it head-on.
"It was also about really redefining that space, so I was very purposeful. I insisted that as I did that, I would also do it in a more informed way, very targeted and with a vision and a passion for it," she says.
Her work led to people asking her where she had trained and she surprised them by saying that she had trained locally, so people began asking if she could train their children. Realising that there was an opportunity there, she registered Mefa Art Centre.
"My vision was to create a centre where people could come and learn art, whether it is music, dancing, singing and so on," she says.
She also started a children's programme, then decided to register a proper college after a long process, and now owns a fashion school, Mefa Institute of Design, focused on fashion alone. Later, she started building a fashion school for kids as well called Wana Watindo. The course runs for six months, taking in children from the ages of six to 17.
"When I was getting into the industry as a young designer, I found that there was no space. You find that you are lost, you do not know what to do or you find that those who are already in this space know each other, they have their own clique and you cannot get into that clique, you cannot participate. It can be quite lonely," she says.
As a result, she now mentors young designers across nine African countries to make the journey easier for them and not have to go through what she did.
For a long time, there was no national fashion body that could engage the government on issues regarding the fashion industry, so she challenged other people in fashion to come together and The Kenya Fashion Council was born.
Akinyi's love for music and the unconventional has never faded however, so she is now learning the Orutu, a one-string instrument that is considered a taboo for women to play.
"I think I have now five songs. I won't use my voice but I will use just the instrument to sing the songs," she says.
Akinyi also has a book in the works, and with all this, one thing is clear, that if there is anything that she believes she can do, she will do it.
"I always go by the verse in the old King James Bible, 'Whatsoever your hand findeth to do, do it with all thy might, with all thy strength because where thou goest there is no work.' When I die I am not going to work. So everything that I do in my life, I do it with the seriousness that it deserves," she says.
Related Topics