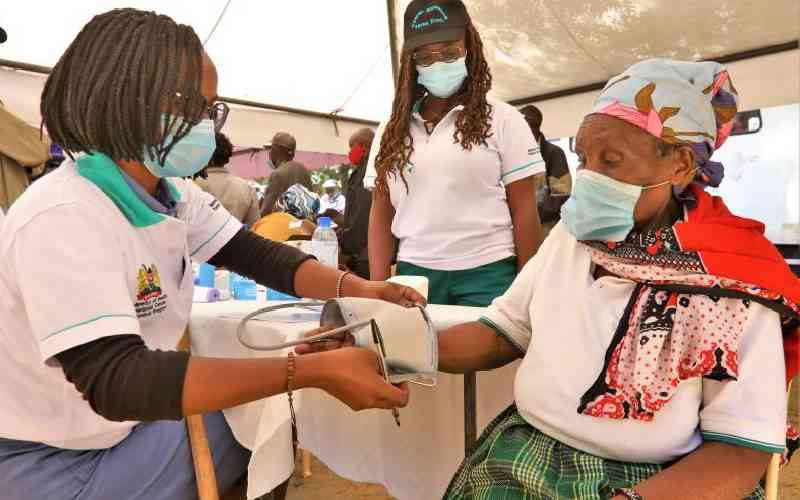 To many people, looking at cervical cancer numbers might feel like staring at an old billboard: they have seen them so many times that they have become unbothered by them.
However, the death of veteran broadcaster Catherine Kasavuli after a cervical cancer diagnosis placed a public spotlight on the disease shocked many out of that numbed state.
Since all this happened around January, the cervical cancer awareness month, many were reminded of how deadly the disease is.
So deadly that 3,268 women in Kenya, out of 5,250 diagnosed with the disease succumb to it every year, according to the GLOBOCAN 2020 Report. This translates to nine lives lost every day.
"It is a lethal disease but preventable... more needs to be done about it," says Dr Kireki Omanwa, President of Kenya Obstetrical and Gynaecological Society (KOGS).
The World Health Organisation (WHO) has adopted a cervical cancer elimination strategy: to get at least 90 per cent of girls vaccinated by age 15, robust screening for at least 70 per cent of women by age 35 and again by age 45, provision of treatment for at least 90 per cent of women in pre-cancer stage, and 90 per cent of those with invasive cancer.
Also known as the 90-70-90 strategy, it prioritises vaccination. "For a reason," says Dr Elly Odongo, a gynaecological oncologist and senior lecturer at Kenyatta University. "Cervical cancer is the only cancer that surely can be prevented."
Human Papilloma Virus (HPV) is responsible for more than 95 per cent of all cervical cancers, WHO says. The virus infects the cervix – mostly through intercourse.
"HPV infects and changes genetic material in the cells of the cervix. This can happen over a period of time ranging from 10 to 30 years," Dr Odongo says.
The HPV vaccine, says the medic, blocks infection with HPV and therefore cervical cancer.
The developed world began administering HPV vaccine routinely in the 2,000s.
Kenya introduced the vaccine into routine immunisation schedule, targeting all 10-year-old girls in the country, in 2019.
One would expect that parents would take their girls to get the jab in many numbers but the uptake has been below target, notes Dr Lucy Mecca, the head of vaccines and immunisations at the National Vaccination and Immunisation Programme.
"So far, just about 56 per cent of those within target bracket have received the first jab. Only 28 per cent have received the second jab.
"We have experienced challenges: some people have not quite understood just how serious this issue is. There is also some level of ignorance.
"The vaccine is free in all health facilities (both public and private) that have been supplied by the government.
"We have enough vaccines but people are not bringing their girls for the jabs," she said at a recent webinar in which she was a panelist.
Indeed, some parents like Jane Kariuki* believe the vaccine would make girls promiscuous. "When the girl knows that she can't get HPV she may not feel the need to continue with abstinence," she says.
Another parent, Aisha Abdalla*, is very skeptical as to the safety of the vaccine. "All of these vaccines are brought here from abroad: how can we be sure there is no hidden agenda behind them?"
Furthermore, Aisha believes that as long as girls are taught to abstain until marriage, society won't need to worry about STDs.
Dr Chemtai Mungo is an Assistant Professor of Obstetrics and Gynaecology at University of North Carolina in the USA. She says: "Cancer is claiming many lives today. We are not yet able to prevent many cancers; ovarian cancer, pancreatic cancer... Cervical cancer is the only one we can prevent because we know what causes it."
Dr Chemtai is currently in Kenya working on a project with Kenya Medical Research Institute (KEMRI) aimed at cervical cancer prevention.
"The key to keeping our girls safe is the vaccine. All parents with young girls should take this opportunity to get them vaccinated.
"I have lived in the United States for 20 years or so now. I have practiced as an Obstetrician and Gynaecologist over there for about 8 years. I have never come across a woman dying from cervical cancer in the USA.
"The reason is, in the first world the vaccine is taken routinely. Nearly everyone has received the HPV vaccine," she says.
Indeed, WHO numbers show that approximately 90 per cent of all cervical cancer deaths are concentrated in developing countries.
As some parents dither on whether to allow their daughters to be vaccinated, there are others who proactively sought the vaccine.
Pamela Savai did not think much about it. She was diagnosed with cervical cancer in 2019. "I know how it feels to be told you have cancer," she says.
Savai's two daughters are now aged 12 and 15. "Both of them have been vaccinated. As a mother, I really want to be content that I did all I could to protect them from cervical cancer," she says.
There is no robust study conducted in Kenya that can tell us how common HPV is among women – or in the entire population.
However, Dr Chemtai says that HPV is more prevalent than HIV. "It is just like the homa (common cold). It is very common. In fact, chances are that one gets infected on sexual debut."
You could be wondering, why age 10 (which has since been expanded to range from 10 to 14 years)?
"The vaccine yields very good results when administered before HPV infection has occurred," says Dr Odongo. "Girls aged 10 – perhaps 10 to 15 – are not sexually active and as such haven't been infected. Therefore, the vaccine will work best with them."
A study done by Cancer Research UK (United Kingdom) – released in November 2021 – shows that the impact of the vaccine is reduced when administered at an older age.
The study found reduction in cervical cancer rates of 34 per cent for those who got the vaccine aged 16–18, 62 per cent for the ones jabbed at 14–16 years, and 87 per cent for those injected aged 12–13, compared with unvaccinated cohorts.
Dr Mecca, in her presentation, also alluded to the fact that the government's aim is to achieve maximum benefit from the vaccine; thus targeting 10-14 year olds.
There are hundreds of HPV strains. The vaccine being given by the government is a quadrivalent vaccine: targeting infection by four variants, namely, HPV types 6, 11, 16 and 18.
At least 70 per cent of cervical cancers are caused by HPV types 16 and 18, noted Dr Mecca. HPV types 6 and 11 are mostly responsible for genital warts.
KOGS, says Dr Omanwa, has given the vaccine a thumbs up and is urging every parent with a girl aged 9 – 14 to take them for vaccination.
Related Topics