Home
/
General
Trying so hard to be sexy makes you stupid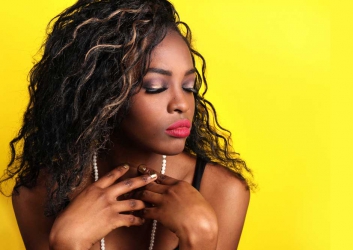 Nairobi Diaries, contrary to what the name might suggest, is not a show about the day to day life of struggling ghetto youth in the city. It is, if you ask me, more about a group of women seeking attention. But I'd rather their concern was respect, because as much as it might be expensive, it lasts longer.
I don't think they represent the values of the majority of Nairobi or Kenyan women. For starters, as much as the Kenyan woman is known to lose her head over weaves and fake extensions, the producers of the show could have given the production a breath of fresh air with some element of originality in as far as African beauty goes - I am sure there are stunning women in the city who rock au naturel. Or is it that they were looking for a particular kind of woman who is only represented by fake eyelashes, stick-on nails and other augmented body parts? Come on guys, there's only so much we can believe about a make-believe doll look, or walking mannequins!
Sometimes the whole show borders on the absurd. How, for instance, do you summon the nerve, as a self-respecting woman, to bring a pair of boxers on set, to boast that they belong to a foreign celebrity you spent the night with? Really?!
There's more to life than being loud, ostentatious, sexy and party animal. Some of us were bred on grade-three maize meals and fish, walked miles to school and to the river, spent weekends on the shamba, climbed trees, herded cattle and fought with boys on the playground. Try picking a fight with us and you would know how it feels like to be run over by a truck!
Granted, not all of us are cut out to be lawyers, journalists or doctors. I acknowledge the fact that some, like the cast of Nairobi Diaries, have a right to choose to be socialites. What surprises me however, is the extent to which they are willing to go to let cameras into their private lives. How are we going to be taken seriously as women when we demand equality, yet we cannot even respect ourselves. Men don't do that...and you claim women are marginalised? Oh, puh-leeze!
Don't forget that you get treated the way you present yourself. So if your boobs are always spilling out, you curse like a third-rate hip-hop artiste high on cheap weed, and brag about the men you have bedded, guess what we'll think of you? The don't-judge-me nonsense won't even fly in this case, because even in a market, you are likely to buy something based on its packaging. So you know what chick? We are going to judge the hell out of you!
Fake foreign accents, designer clothes, expensive jewellery and pricey shoes do not make you classy or 'high-end.' A classy woman is one who is educated, independent-minded, well-mannered and future-oriented. She is a woman with character, morals and values her dignity. It does not matter if she is a mama mboga or a cleaner, as long as she respects herself and body. Now that is class.
I have previously been dismissed that I hate on fellow women because they have more money, get more attention and are more beautiful than me. Yeah, right! Weak minds always refer to opinionated people as bitter. Come to think of it, why would I hate on women who can barely spell their names backwards and open their legs more times than they do their minds?! I only have issues with women who have no idea what dignity entails.
Women will not win the fight against chauvinism as long as they continue to be clothed in indecency. Respect is earned, not dished out like manna. Learn to fend for yourself, no matter how little you manage to bring home. Value dignity more than material possessions and leave a positive legacy. Look in the mirror and see through you, not at you, because therein lies the answers.
Related Topics