Home
/
Food
Entice the children with these 10-minute chocolate fruit lollipops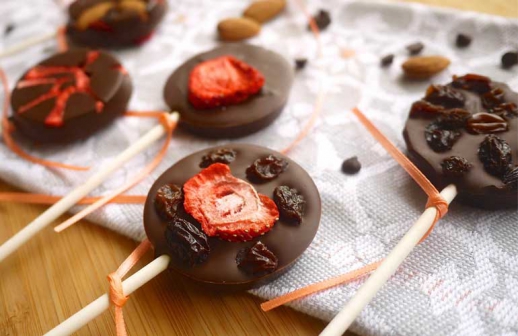 Children can be so hard to please and especially when it comes to food and snacks. How about enticing them with these chocolate fruit lollipops after and exhausting day from school. And what better way to get your children to eat fruit.
Prep Time: 10 mins
Freeze Time: 35/40 mins
Ready In: 40/45 mins
Ingredients:
Fruit of your choice (watermelon, bananas, strawberries, pineapple, apples, kiwi etc)
Chocolate (sweetened cooking chocolate or just any regular chocolate bar)
Directions:
Peel the fruit then slice into ½ or ¾ inch slices. If you have a cookie/biscuit cutter, even better.
Insert a lollipop stick or wooden skewer into the fruit, then place on a grease-proof paper lined sheet (you can use foil if you don't have grease proof paper)
In a glass bowl over a pot of boiling water, melt your chocolate (chocolate should never be melted over direct heat)
Once melted, dip each fruit into the chocolate, place back on the lined baking tray.
Once all the fruit is dipped in chocolate, refrigerate until chocolate has set.
Related Topics