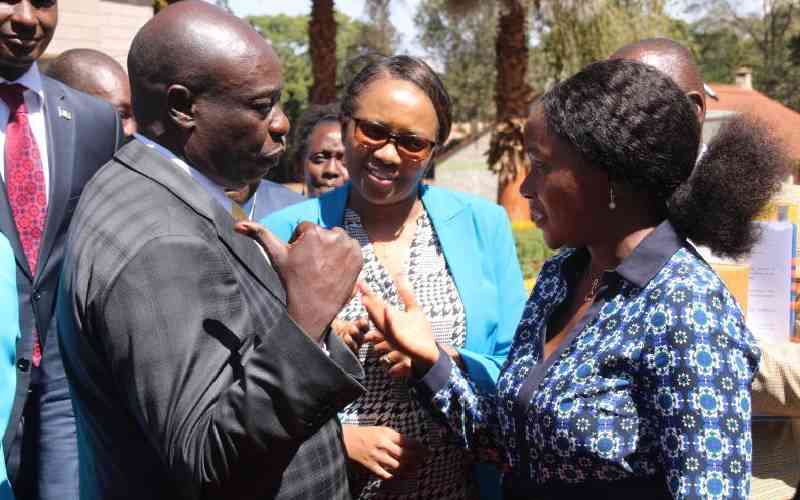 The Intergovernmental Budget and Economic Council (Ibec) meeting chaired by Deputy President Rigathi Gachagua failed to resolve the dispute over allocation of funds to counties.
While pending bills and how to up own source revenue were the agenda of the day, the main bone of contention was equitable revenue share where governors are demanding Sh425 billion.
The Budget Policy Statement released by the National Treasury had allocated counties Sh380 billion, an increase of Sh10 billion compared to the last financial year.
However, governors, through Council of Governors Finance and Economic Affairs committee Chair Fernandes Barasa protested the allocation last week.
Addressing the 19 ordinary session of Ibec, at the Kenya School of Government, Nairobi, yesterday, Gachagua said they had a long discussion on the matter but while governors are demanding Sh425 billion, Commission on Revenue Allocation is willing to adjust this to Sh407 billion. "We have not been able to reach a decision but I want to confirm all participants are alive to the current economic situation," he said.
Gachagua said there is a committee that will settle the issue in a week's time.
Governors are expected to have a two-day retreat with President William Ruto next month where the matter is expected to come up.
"Most issues that can it be sorted here in a formal meeting will be handled there," the DP said, expressing hope that an informal setting between Ruto and the governors will bear fruit.
Controller of Budget Margaret Nyakang'o who presented the agenda of the day listed delay in disbursement from National Treasury and approval of supplementary budget as some of the reasons pending bills are accumulating in the counties.
Diversion of funds to other activities, inadequate supporting documents and under performance in own source revenue were also blamed.
Dr Nyakang'o noted that political interference and refusal by governors to pay the bills are the major reasons.
"The main reason is refusal by governors to honour pending bills for goods and services procured by their successors," she said.
The Controller of Budget said governors are prioritising settlement of self declared pending bills while staggering in payments of those listed in the Auditor General's report.
As at December 2022, counties owed Sh158.7 billion in pending bills.
One of the challenges in settling these debts is the ballooning of ineligible pending bills, she said.
Of the counties with high eligible pending bills, Nairobi leads with Sh9.6 billion followed by Kiambu Sh3.3 billion, Mombasa Sh2.3 billion Kajiado Sh969 million and Meru Sh925 million.
Nairobi also leads when it comes to ineligible pending bills with Sh75 billion, Garissa Sh4.4 billion, Wajir Sh4.2 billion, Kwale Sh2.7 billion and Murang'a Sh1.6 billion.
Related Topics