Home
/
Between The Sheets
6 ways to stop avoiding intimacy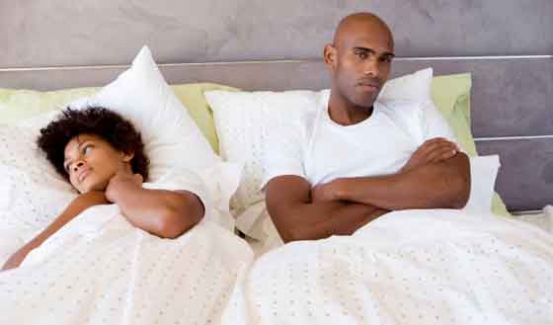 Too tired or got a headache? Some women will say anything to get out of a bit of nokie. Here's how to take your sex life from zero to oh, oh,oh!
Are you coming up with all the excuses in the book to avoid having fun in the bedroom with your partner? And do you fantasise more about a great night's sleep than great sex? Well, you're not alone. A new survey shows that, as a nation, our sex drives are dwindling, with a dramatic decline in our libidos since 2008.
Two-thirds of us describe our bedroom antics as unadventurous and only 2% cited sex as an important part of a good marriage. 'Five years ago the recession was just beginning to bite,' says sex and relationship psychologist Susan Quilliam.
'We were all cutting back on nights out and having more nights in… the bedroom! But now we're so exhausted from working hard, because of that same recession, that we're snuggling up in front of a box set rather than swinging from the chandeliers.' Isn't it time we got our sex lives back on track? Here's how…
Eat your way to better sex
You are what you eat, especially when it comes to improving your prowess
in the bedroom. Want to get in the mood? Put fish on the menu for dinner. 'Good for the brain and sexual function, fish is high in zinc, which helps improve sexual interest,' advises nutritionist Emma Wight-Boycott. As well as eating right, it's also important to avoid certain foods that can decrease sexual arousal.
Things that we find pleasurable to consume, like sugar, alcohol and coffee, can reduce your libido by taking the place of the pleasure that sex can provide. And get to know your body. 'Nobody wants to feel bloated or heavy during sex, so try to avoid your known triggers,' suggests Emma. 'For some this may be dairy, for others it may be wheat, or just a heavy meal.' If you think you may have a digestive disorder or food intolerance contributing to bloating or gas, consider seeing a nutrition specialist.
Boost your energy
No-one can 'perform' if they aren't feeling energised. But instead of reaching for the sugary snacks and drinks to keep you going, try a libido boosting supplement instead. 'B vitamins are renowned for increased energy and ginseng for boosting libido,' says natural health expert and nutritionist Dr Marilyn Glenville PhD.
'Vitamin B3 will increase circulation and blood flow temporarily to skin and many other parts of the body,' explains Emma Wight-Boycott. 'An increase in circulation to the sexual organs can heighten arousal.'
It's time to sexercise
When you don't feel as fit and healthy as you used to, it can have a knock-on effect to your self esteem and your confidence in the bedroom. Doing any kind of exercise is better than none, but ones that help tighten and tone the pelvic floor muscles will help you enjoy sex more – a weak pelvic floor reduces yours and your partner's chances of reaching orgasm, and studies show that strengthening it can have a profound effect on sexual satisfaction.
'Lifting free weights is a great way for women to feel more sexy and get their confidence back in the bedroom,' says fitness and fat loss coach Karen Austin. 'When done correctly, this kind of workout really challenges the core muscle group that are located in your torso, which keep the body stable and balanced, and you'll also be utilising and clenching those pelvic floor muscles without even realising it.'
For a more rigorous exercise regime for your pelvic floor try the Pelvic Toner, £29.99, pelvictoner.co.uk. It's like a boot camp for your inner muscles, use this gadget for just five minutes a day to help you perform more rigorous pelvic floor exercises, improve blood flow and nerve endings in the vagina to make sex a whole lot more enjoyable.
Shake up your routine
You may be tired, busy or just not in the mood, but initiating foreplay and making sex fun can reignite your passion for each other and switch that failing libido back on. 'Feeling sexy will help get you in the mood, so slip on a silky negligée or some new sexy underwear,' says relationship expert Caroline Brealey. 'If your sex life is like clockwork, it's time to shake it up – being intimate doesn't have to mean full-blown sex. Try watching erotic movies together or try out sexting? A suggestive photo of your new lacy underwear is sure to get him fired up.'
Get more sleep
'Sex can be a wonderful way to reduce stress, because it boosts the production of endorphins, the feel-good hormones,' says Dr. Glenville. 'But it's all very well knowing you should be enjoying regular sex – but when you're tired, your libido is usually the first thing to go.' Good quality sleep will help boost energy levels and get you in the mood.
'Stick to a regular bedtime where possible,' says Dr Glenville. 'And make sure you keep fresh air circulating in your bedroom, because the brain's sleep centre works better with oxygen.' Can't sleep? Get your partner to give you a relaxing bedtime massage. It could help you drift off, or lead to something much more fun beforehand.
Strengthen your pelvic floor
Anne Marie Yates, 57, is a holistic therapist from Nantwich. 'At 55, I started suffering bouts of cystitis, especially after sex. My doctor prescribed antibiotics but I just felt that something more serious was going on – it was as if everything down below was dropping.
I went back to the doctors and insisted on having an internal examination. I was diagnosed with a cystocele prolapse, caused by oestrogen leaving my body at the end of the menopause and weakening my almost non-existent pelvic floor muscles. Why hadn't I done pelvic floor exercises after my son's birth in the 1980s?
A prolapse isn't life-threatening, but I felt threatened – physically and emotionally. I was all over the place. I started pushing my partner away when he wanted to make love, I just felt like it was the end for my sex life. Then I found out about a pelvic toner device. It saved me from depression and saved my love life too. By using it every day, it has strengthened my pelvic floor muscles and given me the confidence to enjoy having great sex again.'
Related Topics