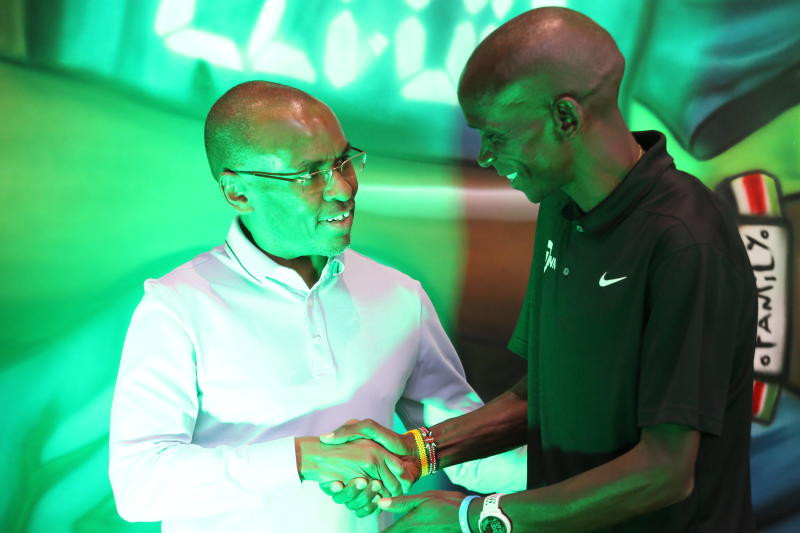 World marathon record holder Eliud Kipchoge yesterday said his main focus this year is to win Boston Marathon in April.
The two-time Olympic Champion said he was well prepared for a victory in the race where he will face defending champion and compatriot Evans Chebet.
He spoke at Rupa's Mall in Eldoret where an artistic drawing of the world's fastest marathoner was unveiled. The drawing is sponsored by Safaricom.
"I will be running the Boston Marathon. There is no other big plan this year, I need to win Boston," Kipchoge said.
"I thank Safaricom for honouring me with the gift (of a drawing). I feel motivated, and I will be motivated for the whole year."
Kipchoge said he will continue supporting environmental conservation efforts through his Eliud Kipchoge Foundation.
He asked the Kenyan government to motivate athletes in preparation for major global competitions. "Athletes belong to the government and they should have a plan to motivate them."
He also asked corporate entities to increase support for sports and sporting events.
"My advice to upcoming athletes is to love what they are doing and be disciplined and be positive in everything," Kipchoge said after the unveiling.
Safaricom CEO Peter Ndegwa said the firm's partnership with Eliud Kipchoge Foundation is geared towards inspiring the younger generation, and is part of its support for sports.
Ndegwa said the artistic drawing was part of celebrating Kipchoge's achievements in sports.
"We are proud that Kipchoge is the Greatest of All Times. Messi (Lionel) recently became the greatest in football, and we have our own in athletics.
"People coming to the mall will continue to be inspired by what Eliud has done," he said. [Stephen Rutto]
Related Topics