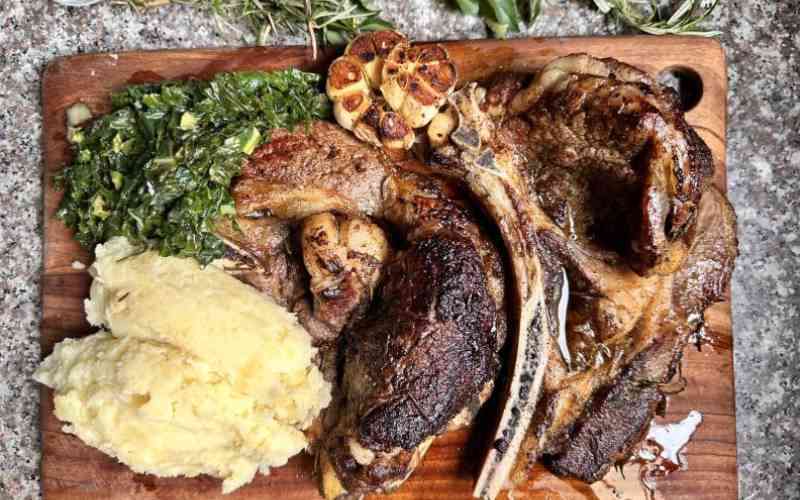 The secret to a good juicy steak is patience and putting all the love from your heart into the cooking. That way you will unleash the recipe for magic, here is mine.
WHAT YOU WILL NEED
1 kg well-aged rib-eye steak (cut into 2 slices)
Salt and pepper to taste
1 tablespoon vegetable oil
2 sticks rosemary
1 garlic bulb/pod
20g butter
METHOD:
Sprinkle some salt and pepper on your aged rib-eye steak. In a very hot non-stick pan, add the oil and pan-sear the steak for about three minutes.
Add the garlic pod that is sliced from the top go in with the rosemary, flip the steak and cook on the other side for another three minutes.
Now add the butter continue to cook and baste the butter on the steak, this will activate the flavours and also retain the moisture in the steak whole crusting the outside of the steak.
Lift the steak with a long and cook the sides. Keep on basting the butter. Once ready serve with your mashed potatoes and greens.
FOR THE SUKUMA/ COLLARD GREENS YOU WILL NEED:
1 bunch of collard greens
2 Royco beef cubes
1 tablespoon butter
Sauté the greens in butter and crumble in the beef cubes. Do not overcook the greens. Serve with mashed potatoes.
Related Topics