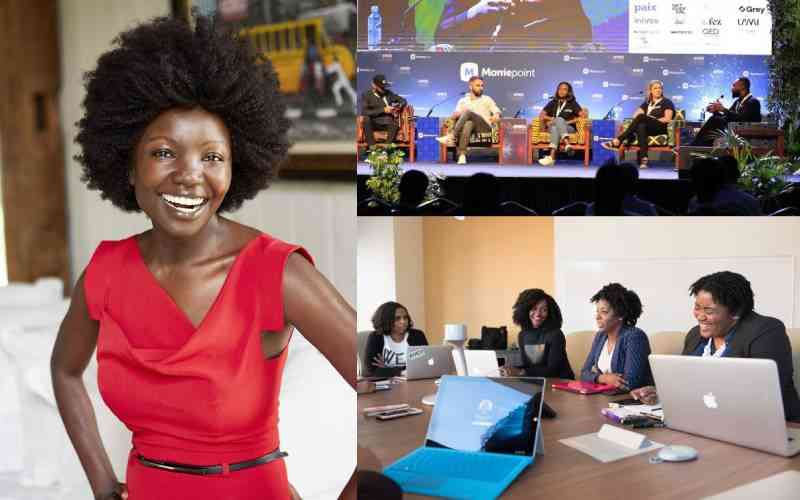 Like careers in science and math, women make up a small percentage of the tech workforce.
According to the American Association of University Women (AAUW), an NGO, which works to empower women and girls, "Women make up only 28 per cent of the workforce in science, technology, engineering and math (STEM)."
The report adds that the gender gaps are particularly high in some of the fastest-growing and highest-paid jobs of the future, like computer science and engineering.
Even then, there are women who are inspirationally shining in the technology space, proving that the ladies can do it all.
LYDIAH KEMUNTO BOSIRE - 8B EDUCATION INVESTMENTS
Dr Lydiah Bosire is a boss on her own lane, and The Standard sat with her last year to pick her brain.
She said that her success story is one brought about by serendipity along with hard work and determination.
She came from a humble beginning in Kisii and grew to work in some of the biggest organisations across the world. Dr Bosire then sought to share her lessons through her company, 8B Education investments.
"Getting my first scholarship was a series of accidents. One of the things that 8B sets out to do is to remove those accidents. You should not find out an opportunity exists by virtue of who you know, what newspaper you happen to read that day, or landing on the right ad on Google," she said as she defined what the organisation does.
"What 8B does is connect African students with information about global universities. Not just some universities with which we have relationships, which is what agents do. We are not an agent. It is a platform that does not charge students, and one that they can use to find useful information about where to apply and how to make a good application."
SARA MENKER - GRO INTELLIGENCE
Ethiopian-born Sarah Menker's company Gro Intelligence seeks to provide crucial data related to food shortages and climate change, among other global problems.
Tech website Afridigest describes Gro Intelligence as an AI powered company providing decision-making tools and analytics to the food, agriculture, and climate industries.
"Gro combines more than 650 trillion data points from 50,000 data sets with over 2 million AI models that predict a wide range of phenomena - from the impact of natural and human-caused disasters on food supply to how weather events affect the price of goods," Afridigest reports.
On its website, the company reports that it was Menker's experiences growing up in Ethiopia in the 1980s and 90s which helped shape her vision.
"When you are growing up and it is not a world of abundance - when it is a world of limited resources... It grounds you. It reminds you of what basic necessities are and what basic needs are in this life," Menker said.
The website adds: "To help farmers, businesses, and governments around the world deal with the climate challenges, Gro has built a suite of climate indices covering specific risks - from drought to floods to fires and heat stress - that help users understand how weather translates into climate impacts in real-time and in the future."
HILDA MORAA - PEZESHA
On her LinkedIn profile, Hilda Moraa describes herself as an innovator and author with over 10 years' of experience in fintech, regulation, developing innovations and entrepreneurship.
Hilda is the founder and CEO of Pezesha, a peer-to-peer micro-lending marketplace for Africa.
How we made it in Africa, a blog, reports that the organisation provides access to affordable financial services and credit scores to low-income borrowers.
The report adds that Hilda previously founded Weza Tele, which in 2015 became one of the first African tech startups to be acquired by another business.
Speaking about her career in an interview, the tech leader says that she is proud of the substantial growth at Pezesha, praising the work culture and clarity of vision.
"Our mission - empowering micro, small and medium enterprises in Africa with affordable financial services that they can use in a responsible and purposeful way - is possible. This gives us the motivation to keep doing what we are doing," she said.
Afridigest notes: "The company has built embedded lending infrastructure that allows traditional and non-traditional finance institutions to offer working capital financing to SMEs. And since its founding in 2017, Pezesha has extended loans to over 100,000 businesses via over 20 partner companies."
CATHY CHEPKEMBOI - TUSHOP
Cathy founded the innovative platform Tushop in 2021, and just a year later, it made headlines for its projections.
The company, which facilitates online grocery shopping; announced that it had raised Sh345 million in a pre-seed round in 2022.
Tushop planned to grow within Nairobi before expanding its services across the country.
"We are going to scale across Nairobi, and because it is an operationally intensive business, we (immediately) need more warehouses and delivery trucks. We are hiring and also improving our technology and our agents' channels to make the experience even better," Cathy said in an interview.
The Tushop founder has been praised by investors as a leader with a deep understanding of the market and impressive execution.
"(She launched Tushop following her departure from Unilever (Kenya and UK), and Moko, a furniture startup in Kenya. She says that it was during her stint with Unilever in Kenya that she recognised the fragmentation in Kenya's retail sector, adding that logistics was one of the challenges that led to the high cost of essential goods in the country," Techcrunch reports, adding, "In Kenya, distributors sourcing from manufacturers generally define the price of goods, which is, however, often inflated by the distributors and retailers."
JIHAN ABASS - LAMI
Jihan Abass is the founder of Lami Insurance Technology, a service platform that aims to increase insurance penetration across Africa.
"The Griffin Motor App is Lami's flagship product and has shortened the purchase process of car insurance to less than two minutes," Africa Tech Summit writes in a bio of the entrepreneur.
It adds: "Prior to starting Lami and Griffin, she worked as a sugar trader in the City of London, trading on the New York and London sugar markets. She has an MBA from the University of Oxford and an undergraduate degree in Finance from CASS Business School, London."
On its website, Lami reports that it "continually invests in technology, creating unmatched product experiences."
The company's vision is to democratise financial products and services and simplify the lives of millions.
Afridigest reports: "To get Griffin off the ground a technology solution was needed to link insurance companies with brokers/providers to simplify the policy underwriting and claims processes. Today that tech solution is Lami, a product-agnostic, API-driven digital insurance platform that helps businesses across sectors to easily embed insurance products into their offerings."
The report further notes that Lami has integrated its API with more than 15 companies - from logistics providers to e-commerce companies to banks and fintechs - and has a portfolio of over 85,000 policies, with premiums underwritten of nearly $1 million (Sh128 million) annually.
Internationally, some famous names of women in tech include Ada Lovelace, Margaret Knight, Radia Perlman, and Anita Borg.
"Ada Lovelace is widely considered to be the first computer programmer. She was a mathematician who worked with Charles Babbage on the design of his analytical engine, a precursor to the modern computer," Cointelegraph, a crypto industry website reports.
It adds: "Anita Borg founded the Institute for Women and Technology. She was a computer scientist and women's rights advocate. Borg's work concentrated on advancing diversity in the technology sector and improving the representation of women in the field."
Related Topics