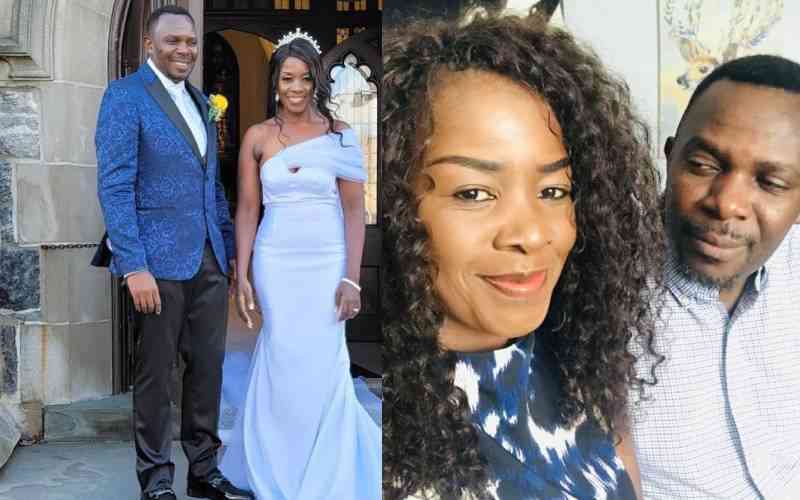 Celebrating her first wedding anniversary, New York-based Kenyan gospel singer and motivational speaker Gloria Muliro looks back at her past with a smile.
"Happiest anniversary my best friend, my 'moshene' partner, my husband. Your love is a gift that I open every day. Here is to you, here is to us, here is to many happier years together. Happy anniversary hun. I love you," she penned on her Instagram last week, glorifying her husband Evans Sabwami.
Elated, the celebrated star told Eve that she had found love and purpose in life since she met the preacher husband, that, after a sad breakup.
"When you find love, you also find peace. It helps you meet the purpose God created you for as it is a connection to your destiny. That is why I thank God for my husband who is also truly a friend. He is a gift that God blessed me with," Gloria told Eve.
"The past is behind us. God does everything with a reason. Whatever he does is meant to prosper you and not to harm you. It is meant to give you a future. We have been growing together since we tied the knot last year. We have been progressing well as a couple and also as ministers of the gospel. Each new day is a blessing and we are always looking forward to God revealing his plans for the future to us. It has been a journey of success," she remarked.
COLOURFUL WEDDING
In October last year, Gloria and her heartthrob Sabwami caught many by surprise after the two walked down the aisle in a colourful wedding held in the United States six years after she walked out of her troubled affair. Six months ahead of the wedding, she had revealed to The Standard that she had fallen in love again, and that she was ready to pick up the pieces and move on after healing from her divorce.
Since April last year, the two had engaged family members in preparations for the solemn day. The last ceremony, a pre-wedding party, had been conducted in Eldoret on October 8, after a traditional wedding was held about seven months ago.
"Finally, finally… My autumn wedding in New York," Gloria captioned some images announcing the happy union.
"We honestly did not plan to announce our big day to the public. The agreement was that we would have a low-key wedding ceremony. The guests had been informed of that. But after somebody posted some photos, we felt obligated to announce this to the world," Gloria, then, told The Standard.
Having relocated to the US since, Gloria says life has been promising and that she has adapted well to her new surroundings.
BIRDS OF A FEATHER
"Life here, of course is different from Kenya and so I had to adapt. We are running the ministry. I am also in touch with everything back at home and am still supporting the charity missions I started there," she said.
Sabwami is an American citizen of Kenyan origin. He is a pastor, an engineer, and graphics artiste. The two lovebirds complement each other in that they share a passion for gospel ministry, music and philanthropy.
The rather publicity-shy man was divorced more than eight years ago and has been single since.
Gloria is known for her inspiring gospel hits such as Ndio Yako, Narudisha, Motokeo, Anatenda and Nakubaliana (2020). She is a trained minister of the gospel.
Born in Vihiga County to Esther and David Muliro, Gloria released her first studio album, Omwani Aletsa, in 2005. Out of her five studio albums, the most successful was Kibali with songs like Sitolia, that featured Willy Paul, making her a household name across the country.
GLORIA'S HITS
Her most recent songs such as Nakubaliana (2020) and Anatenda (2021) have been popular tunes, both in media and also among her fans.
Year 2018 was one of the biggest in the talented singer's music career thanks to the Sitolia collabo that got her six Groove nominations. Besides winning a number of Groove awards, she was named the Best Female Artistes twice at the Mwafaka Awards, the same gospel awards where she scooped the Song of the Year accolade for Sitolia.
Eric Omba, the pastor and producer with whom Gloria had tied the knot with in 2009 moved on two years after the break up.
He got hitched to a model named Bella Dee, also from his church.
Gloria claimed that he was 'abusive'. Omba had however remained adamant that he loved her to death as he persistently insisted that he wanted her back. Later, he changed the tune blaming it all on 'evil forces'
Related Topics