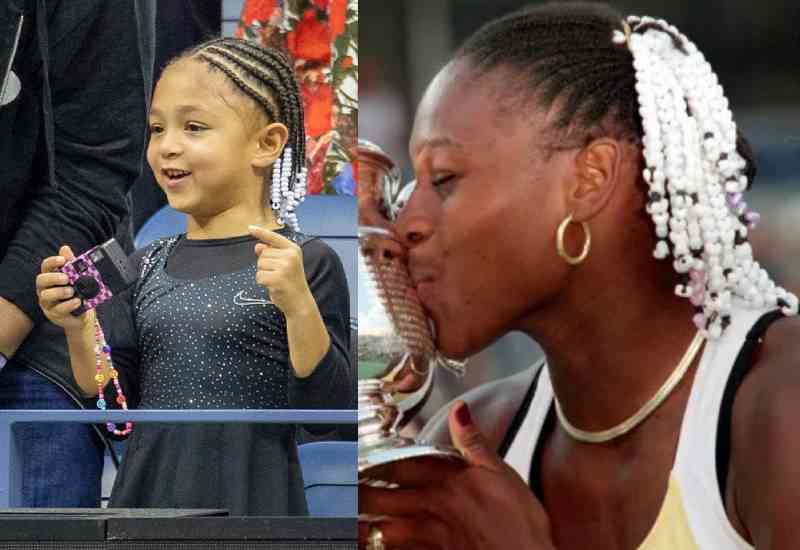 Serena William's daughter has melted hearts across the entertainment scene after she made a public appearance wearing the same hairstyle her mum did as a child.
Four-year-old Alexis Olympia looked adorable in braided hair decorated with white beads, and keen followers quickly recognized the hairdo as one Williams wore when she made her tennis debut in 1999.
It was a sweet tribute to the big moment when, years back, Williams would venture into an athletic career where she made her mark as an iconic sports personality- with 23 Grand Slam Singles titles under her belt.
The New York Times has called the charming young girl her mum's "biggest supporter" in the headlines that followed the delightful moment.
"As Williams hit aces and swing volleys, which have come to define her game and legacy, Olympia sat nearby in Williams's player's box. She donned braids with white beads on them, paying homage to a style her mother wore when she won her first U.S. Open in 1999," The New York Times reported.
William's husband, Reddit co-founder Alexis Ohanian sat with their daughter as they watched Williams play what The Independent called 'possibly her last singles tournament.'
"Her outfit matched her mother's on-court attire as well - she was dressed in the same black, sparkly Nike dress as Williams was wearing," The Independent notes.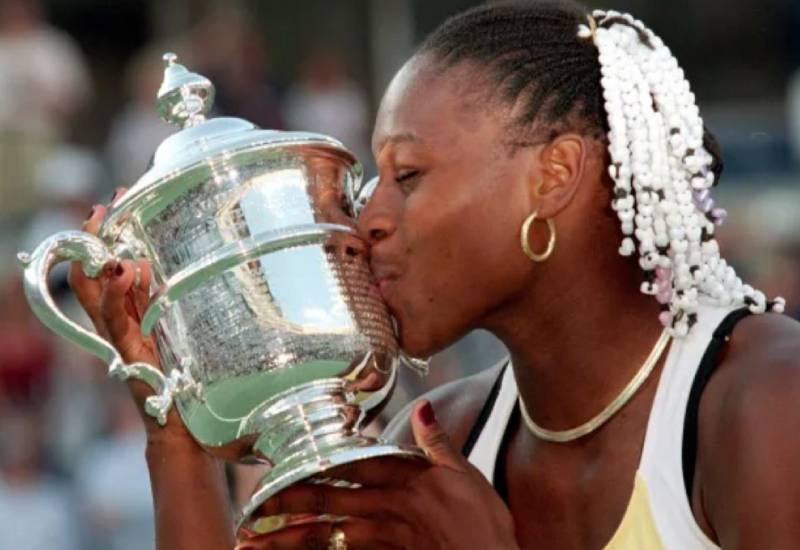 Williams played her first-round match against Danka Kovinic of Montenegro as fans looked on with bated breath, knowing that had she lost, it would be her last time to compete in a major singles tournament.
"It was either her wear beads or me. I wanted to do it but I just didn't have the time," Williams said in a press briefing after the tournament, adding that her daughter has asked to wear beads a lot.
"She ended up beating Kovinic in two sets and will play in the second round of the championship on Wednesday," Buzzfeed reports.
The lifestyle website adds: "Before the 40-year-old entered the stadium, the audience watched a touching tribute video narrated by Queen Latifah, who was also present, highlighting Williams's past US Open performances and wins. Also this week, Gatorade (Beverage Company) released an ad narrated by Beyonce honouring Williams's legacy and the path she paved for Black women."
Williams announced her oncoming retirement in an interview with Vogue Magazine early this month, where she revealed that she wanted to "focus on her growing family."
"A lot of people don't realize that I was two months pregnant when I won the Australian Open in 2017. But I'm turning 41 this month, and something's got to give," Williams said.
She added: "I've been reluctant to admit that I have to move on from playing tennis. It's like a taboo topic. It comes up, and I start to cry. I think the only person I've really gone there with is my therapist."
In the candid interview, Williams reflected on her journey as a young black girl with the dream of playing tennis.
"My whole life, up to now, has been tennis. My dad says I first picked up a racket when I was three, but I think it was even earlier. There's a picture of Venus pushing me in a stroller on a tennis court, and I couldn't have been more than 18 months," Williams said.
Related Topics