Esther Muchene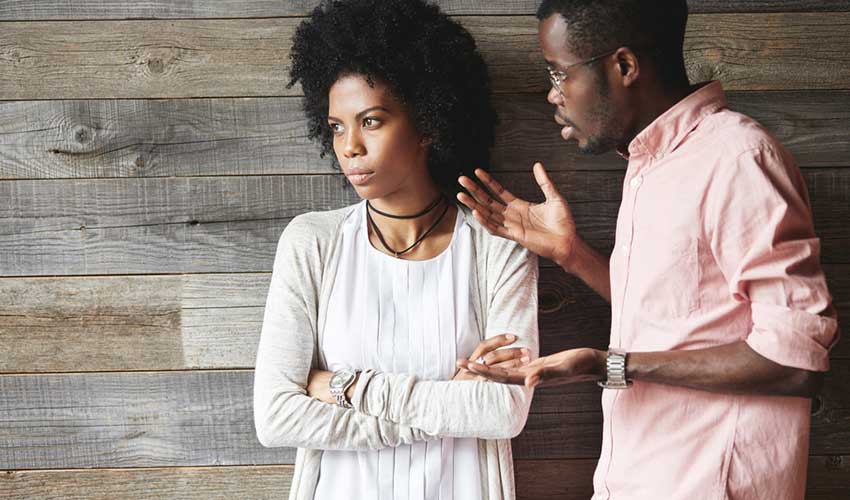 Arguments are a normal part of life. How you handle them is what makes all the difference.
Coming from different families, cultures and backgrounds, differences will always arise. Even siblings squabble from time to time albeit couples?
Arguments in relationships cannot be avoided. When we let arguments escalate into full blown fights, the relationship ends up being affected eventually. Learning to handle them is a very vital part of relationships.
Here are some tips on how to argue in a loving way.
1. Timing
It is important to plan as a couple on the right timing to discuss issues. You may decide that you should both cool off first and have some space as a way of practicing emotional control. Avoid having arguments when you are both tired, worked up or from work. Have patience with each other and schedule the appropriate time to handle disagreements.
2. Watch your tone
It's amazing how tone has the power to escalate or deescalate an argument. Whenever you start yelling, no effective communication can take place. Don't allow your emotions to get the best of you during this time. Approach the argument with a loving and calm tone at all times.
3. Avoid assumptions
More often than not, arguments are caused by miscommunication and misinterpretation of facts. Some couples have even broken up because of assuming that their significant other did something wrong or 'he said, she said' from other people. Before you approach them, have an open mind and give them the benefit of a doubt. You should also be able to accept when you are wrong and avoid being defensive.
4. Don't run away from the problem
Avoiding talking about the issue directly is damaging to any relationship. Try to tackle the issues head on rather than letting it drag for a long time and erupt in the future. Talking about issues can be scary and uncomfortable. However, it is better to handle them at once and communicate rather than shut down.
5. Have respect for each other
In case an argument happens, one of the ways that prevent them from escalating is maintaining mutual respect for each other. Do not call each other names, be rude towards one another or get physical. You must always remember that you are a team first and foremost.
6. Honesty
A part of practicing loyalty and trust is being open with one another. This means that you should always speak your truth and avoid beating around the bush. This also requires you to truly express yourself when something they did annoyed you or made you feel uncomfortable. Sometimes, partners agree with everything their partner says in order to prevent having uncomfortable disagreements. Always be honest and let your partner know how you feel.
7. Listen to one another
Learn to consider the other person's point of view as well. When an argument is going on, we are often quick to press our point and be fixated on ourselves. In order to argue in a loving way, you should consider the other person and take turns talking for constructive communication.
8. Stay on topic
Couples that handle arguments in a respectful and loving way handle one issue at a time without clouding their judgements with previous issues. It is easy for issues to snowball into bigger ones when the past is brought up. This will cause the disagreement to escalate into full blown fights that are not necessary. When you notice that the argument is snowballing, take control of it and bring it back to where you can both handle the issue at hand.
9. Keep arguments out of the bedroom
According to some relationship experts, the bedroom should be considered a sacred place that represents serenity and peace of mind. When couples bring arguments into the bedroom, it stops becoming a sacred place and loses its meaning. You can decide to take walks and find an appropriate place to settle your differences. You can also decide as a couple that you will not go to bed angry as a way of handling disagreements.