Caroline Kimutai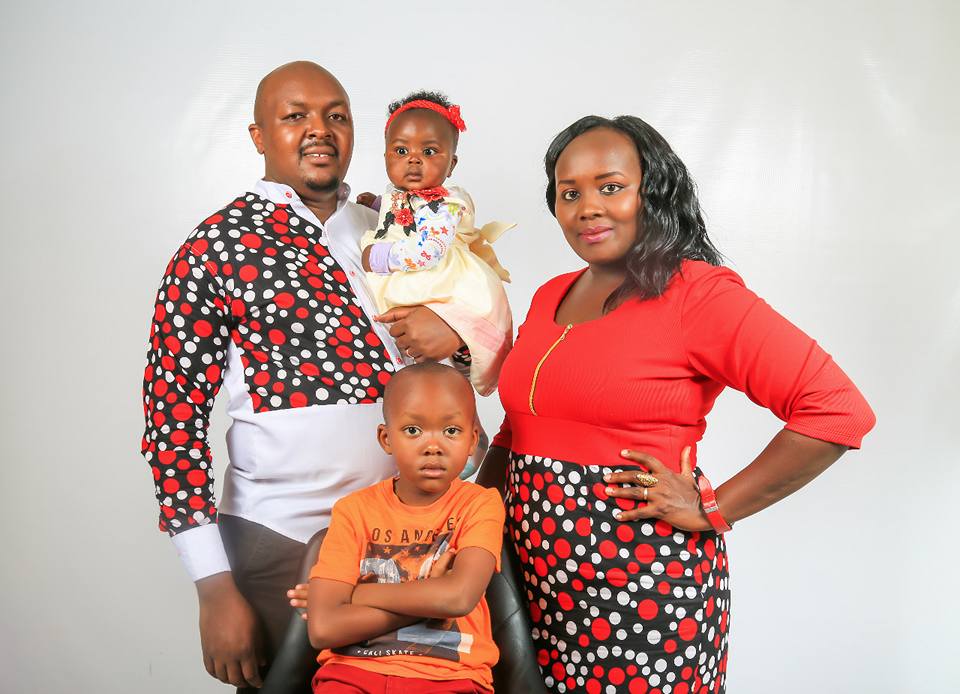 This Christmas, Lily Ronoh-Waweru, her husband Johnson Waweru, plus their two children aged six and two, will spend Christmas in their semi-complete home in Limuru. This is a really big deal for them.
Lily, 31 and her husband Waweru, 35 are making huge sacrifices so they can achieve their objective of owning a home. The couple holds two jobs each and have postponed buying clothes and going on holiday so they can get money to complete their home.
"Project started last year (2017) in late August, we moved into the ground floor in January. Construction continued in November this year (2018). We intend to do roofing, if money allows, then take a break," posted Lily on the Builders & Co-Creators Facebook page in early December.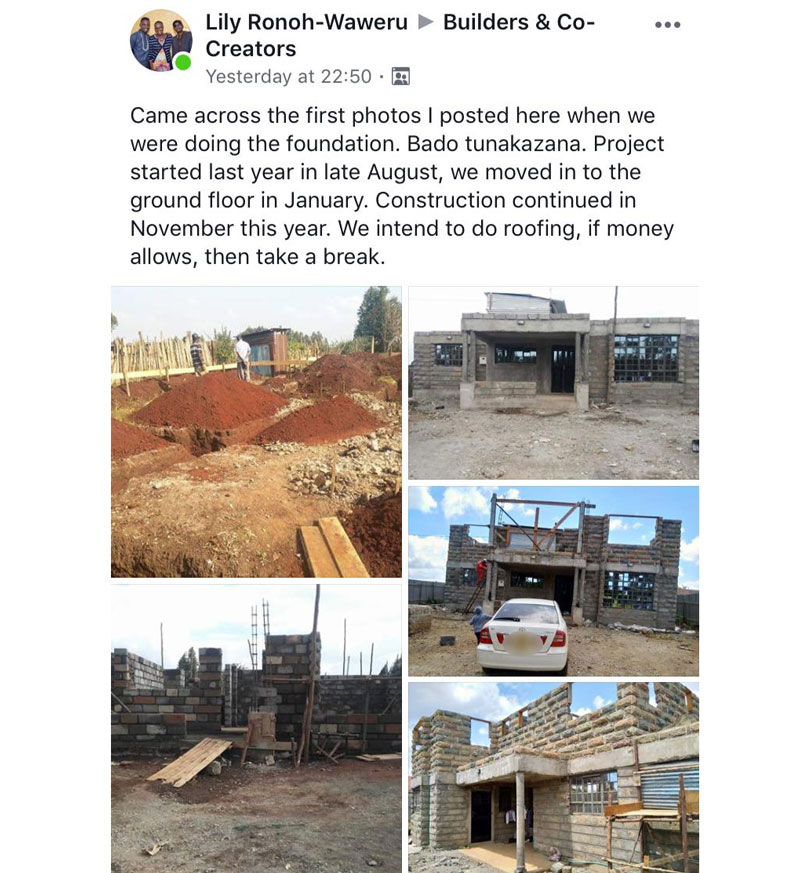 Rented house became too small
In 2016 when Lily was pregnant with her second baby, she felt the two-bedroom house they were renting was getting small. Then, they were living in Muthiga, along the Nakuru-Naivasha highway. The rent was Sh 15,000.
The house became smaller with the new addition to their family. "We started house hunting and the houses we got that were spacious cost Sh 30,000 and above. Since we had an inheritance land in Limuru, we resolved to start saving for a house," says Lily.
Husband and wife sat and strategized. They made a conscious decision to endure the temporary pain of living in a small rented apartment. They were very clear they did not want to rent anymore. Buying a house was not an option. After all, they already had land.
The first step was getting the paperwork of the Limuru plot. "It cost us to ensure that the land's documents are in order," Lily reveals.
The young couple was lucky. If you are looking for land in Limuru, a quick online search reveals prime land for residential purposes costs about Sh 25 million. In other places the average price is Sh 2 – 3.5 million per acre.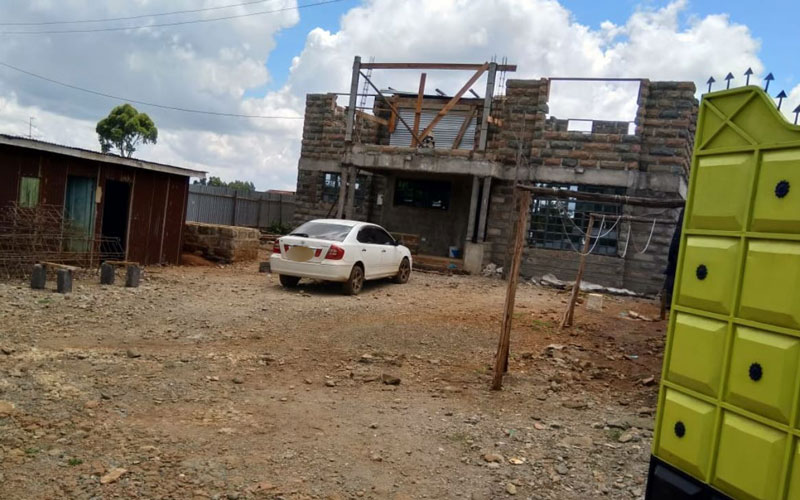 Losing cash to a shoddy architect
Their journey started by looking for an architect. At this point, Lily clarifies that they were not looking to build a dream home. "We are very practical people so we don't have a dream home. We wanted something functional and within our means."
During the architectural design process, Lily took charge and made all the decisions. "My husband used to say; 'Nyumba ni ya mama, boma ni ya mzee (the house belongs to the wife and the home to the husband)."
After paying an upfront payment of Sh 80,000, the architect delivered such a poor design that they dropped him and trashed his designs. Luckily, her husband, who had just left his job on medical grounds, was given part of his pension and the cash came in very handy.
They got a second architect who Lily says, did a better job – according to what they envisioned. "We are going for a rustic, wooden finish. It's a two floor all ensuite maisonette. We used bush stones so as to give it texture. Having lived in a small house, the rooms are intentionally big. It's also a very functional house. The lounge is sunken."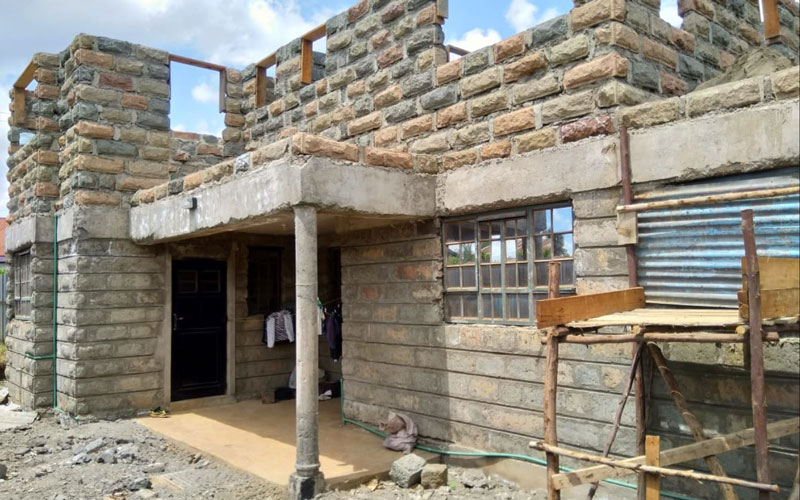 Another blunder
Lily confesses that building a maisonette is not a walk in the park. Looking back, they should have probably built a bungalow, had they known how expensive it would be to build a maisonette.
"We didn't do a bill of quantities and so we underestimated many things. For example, we thought the foundation would cost at most Sh 300,000 but we ended up using Sh 800,000. You can imagine the shock!"
Lily who describes herself as a great negotiator, says they both supervise the construction as well as source the materials. I also carry the vision of the house, so I know what I want where."
So far, most of their cash has gone towards building the foundation, shutter and roofing.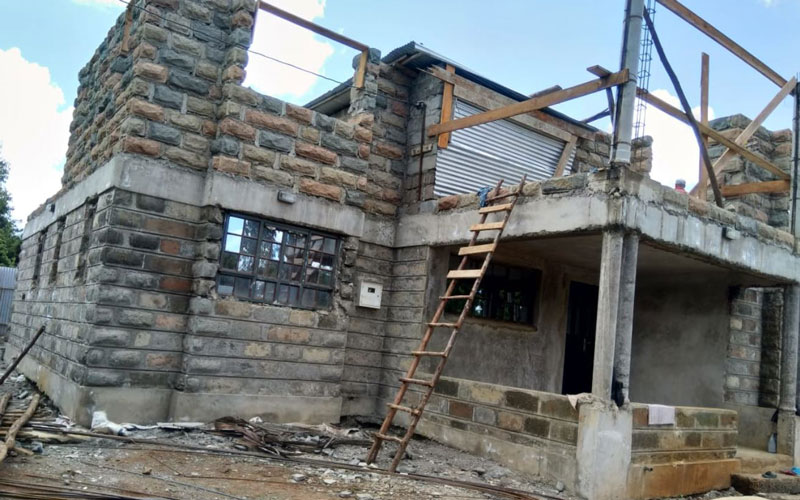 Challenges of moving in
After partially completing the ground floor, Lily and her family moved in.
The decision was based on the fact that they do not have the Sh 7 million needed to complete the house. "We had half of the amount and that's why we opted to move in before it was complete. Also, our son was moving to grade one and we had identified a good school near our home. We had to hurry so that he could start with the rest," she says.
When they moved in, the first thing they had to make do with was the poor workmanship on the ceiling plastering. Luckily, Lily says the ceiling can be rectified when they get to the finishing phase.
Being a standalone house, they had to live for a couple of months with no fence. After they got some money, they erected a temporary fence using iron sheet roofing material.
However, since Limuru is very cold, before moving in, they made the toilet and bathroom in the house was ready. For now, all the waste from the kitchen and toilet is directed to the outdoor toilet. In the kitchen, Lily has to make do with working tables that are not finished with granite or tiles.
"The most important thing for us is that we were inside. We had pressure to complete the ground floor so that we could move in and once we did so, we no longer have pressure to complete. Now we take things in our stride. Get quotation for a particular phase, save towards it and once we hit our goal, we call the fundi to proceed," says Lily.
Making adjustments
The Waweru family have had to make many adjustments.
Their older child (a son) struggled a bit to make new friends. Also, children around the area speak Kikuyu and that made it hard for him to adjust. "We additionally had Wi-Fi where we used to stay and he would play YouTube games but this was not available in the new house. And the cold here is something else. My children wear clothes upon clothes. They also have to stay indoors most of the time. He has, however, already adjusted complete with learning a few Kikuyu words."
Financially, apart from their eight to five jobs, the couple engages in side hustles to supplement their income. Her husband rarely sleeps as his side hustle is very involving. Her husband contributes a big chunk towards the savings that go towards the construction while she caters for house utilities including paying school fees for their son.
The extra income from their side hustles have helped them slowly build their home using minimal loans. "We only took a small loan when we were about to move in so as to build the outside toilet and fix the common toilet and bathroom inside the house. Also, when we moved in, we had accumulated debts from the fundi and suppliers. It took us around three months to pay."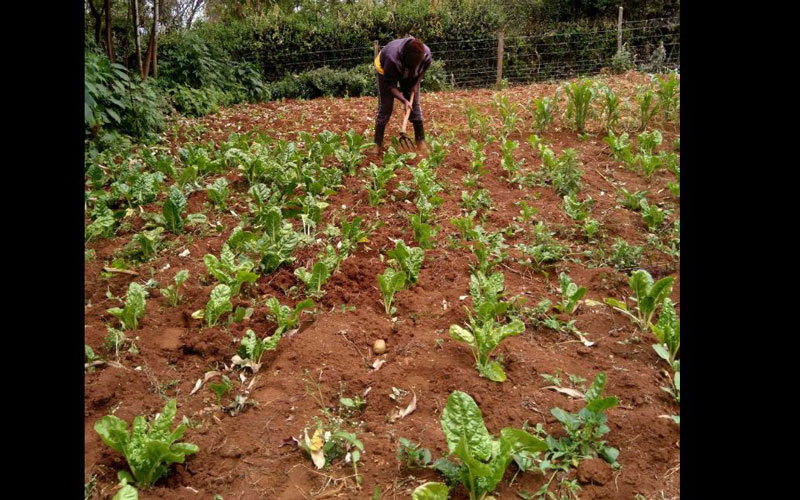 Lessons learnt
If all goes as planned, Lily and her husband will complete their home by end of 2019 - meaning it would have taken them two-and-a-half-years.
If you want to follow in their footsteps, Lily has some advice:
Start with whatever money you have and proceed when money comes in.
Don't rush to build a masionette if you don't have enough money.
If you have the land, build the shell, move in and complete as you stay inside.
As a couple you both have to believe in the vision of a home and together work towards it. It will make things so much easier.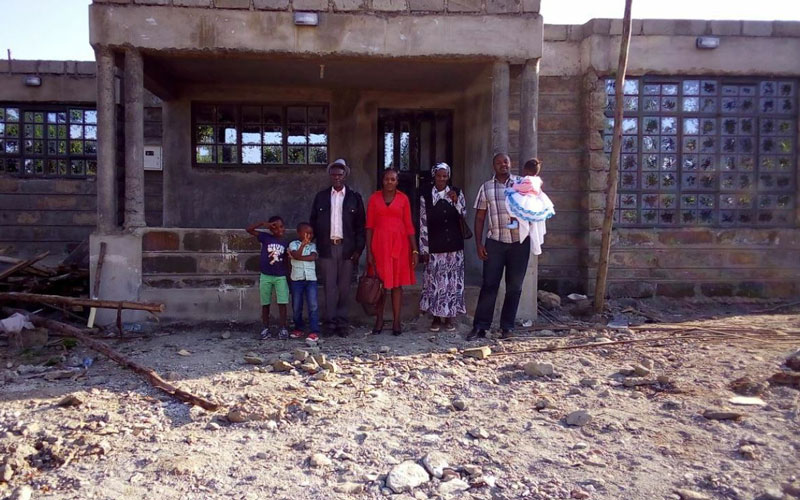 Do you have a home ownership story to share or advice? Let us know in the comments section or drop us on email on [email protected]