Home
/
Young Women
Josiane Faubert: I tell the African story through the lens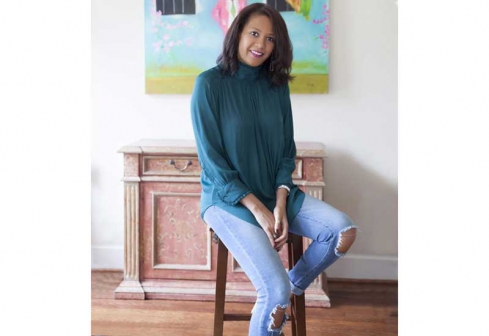 Josiane Faubert, 40, is a married mother of two, she tells us about running PICHAstock, an online market for contemporary images of Africa
MY BACKGROUND
I am originally from Gabon...Gabonese and French to be exact, and have a Bachelor's degree in Economics. I moved to France while I was still in high school and after two years of university in Paris, decided to take a year off and moved to the US to learn English. I stayed there for five years to finish my education and got some experience working in international development projects for a couple of years. In 2005, I moved to London where I worked for a marketing research agency. I had started my family at this point and it became challenging finding a balance between raising my children and working. I was really passionate about photography at the time so I quit my job to become a portrait photographer.
THE IDEA
When I moved back to America in 2011, I found the market saturated with photographers so I took a year off and went back to school for a certificate in Social Media Management. At the same time, I was managing digital platforms for a few friends in Gabon. In the process, I realised how hard it was to find the images I wanted yet I was too far away to shoot in person. This is basically where the idea for PICHA started. I wanted more contemporary and urban images depicting life in Africa and decided to start a database to fill that gap. Our concept is simple: photographers upload their images to the website and we do the promotion, marketing and ultimately find buyers. It is basically a marketplace for digital images and every time we make a sale, the photographer earns a commission.
WHAT HAPPENED NEXT
All the professional roles I had taken up over the years had equipped me with the necessary skills required to set up and run PICHA. I did my business plan and understood that for a while, I would not be able to sell. I started with my own collection of images because it was easier to sign up photographers if they could see and understand how the website worked. I used my savings to set up the website, and a huge chunk of that money went to legal fees because of the licensing aspect of the business as well as setting up terms and agreements.
RUNNING A STARTUP
There are always challenges at every stage of running a new business. When I first started, I was happy I had an idea and in my heart felt that it would work. And then I launched the website and had a little panic attack because now I would have to make it work. It feels good to see the business grow, but you have to put in a lot of work. On some days I am really exhausted and don't even want to talk about PICHA and then you get your mojo back and continue working non-stop. There are also so many hats you get to try particularly in the initial phases; there is always something to do and learn, and that can be exciting.
WHERE I AM NOW
We primarily work with photographers all over Africa including Kenya, South Africa, Ethiopia and Morocco. We're striving to have photographers from all over the continent, but this is easier in some countries/cities than in others due to issues like internet connection. We are working to establish strong hubs in South Africa, Kenya and Ghana. Thanks to the internet, we are able to work with a team of consultants and freelancers in business development, social media management as well as with digital ambassadors who help us spread the word.
Our clients are presently SMEs, bloggers and online magazines as well as some digital and advertising agencies. As we grow, we will seek to appeal to companies that consume more images. Most of our buyers are return customers which is great because it means they really love the product.
In the initial phase, we focused on communicating with photographers, explaining how the website works and getting them to sign up. While we will still be growing our database, our goal is now to market more to get an increasing number of buyers.
MY TIP
Don't be afraid. I jumped into it not knowing what the exact turnout would be. Some doors will open and some will close, which is okay because you can always find a way. If, ultimately, things don't work out, you just pick up and find something else to do.
Related Topics