The Mirror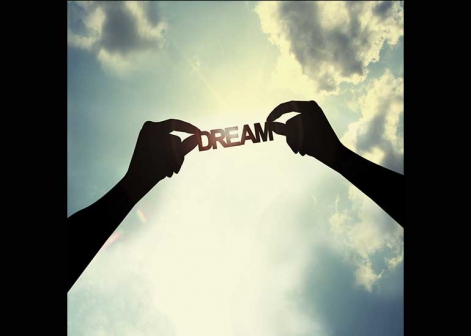 ALSO READ: Confessions: How do I tell my beautiful, intelligent friend she's the woman of my dreams?
Are you naked in public, flying, fabulously rich, in danger, being chased or even dead? We look at how to decipher dream themes
Dreams can be thrilling, mysterious or just downright terrifying and most of us wake from them thinking about what they really mean.
"We all have dreams, whether we remember them or not, and research shows just how important this is," says The Dream Doctor, Pam Spurr.
"If you deprive someone of dream-stage sleep, they can experience depressive moods and feel disoriented.
"Most people do recall their dreams and nightmares but they are often left wondering what on earth they could have meant.
"Who was that ghostly shape chasing me? Why was I naked? And why on earth was I the prime minister of all things?
"Your dreams and nightmares originate from the primal part of the brain, the limbic system.
"During dreaming, it churns away - processing feelings, old memories, recent events and sometimes those nightmarish things you don't really want think about.
"Think of your dreams as if they are chattering to you in their own language through the images that cascade through your sleeping mind.
"The language of dreams has a free range over your deeper feelings and beliefs. This explains the surprising dreams you have, such as sleeping with your boss - who you don't even like.
"Here are the most likely meanings of common dreams and nightmares. But the meaning of yours may be unique and have a different interpretation."
Five top dream themes
1 Having sex with an unlikely person like a celebrity or your partner's best friend
Hidden meaning: Don't feel anxious about such dreams as they are classic wish fulfilment. They reveal secret desires you wouldn't act out, especially when it comes to celebrities in sexy dream images. Your mind is playing out fantasies.
What you can do: Such pleasurable dreams are meant to be enjoyed and should never make you feel guilty. If they become recurrent though, say about someone like a married colleague, tread carefully - don't put yourself in temptation's path.
2 You suddenly become rich
Hidden meaning: Such dreams reveal deeper symbolism about you enjoying something good that's happened to you - possibly little to do with money. You may be in a new life phase and it symbolises "emotional wealth". Or it may be classic wish fulfilment for wealth.
What you can do: This is a great starting point for thinking about what makes you feel "emotionally wealthy". Build in more of the things that make you feel good about yourself.
3 Finding yourself in a top job
Hidden meaning: Dreams of being prime minister, a company director or an international star often symbolise a desire for more recognition. Your inner self doesn't want to be overlooked and you'd like more respect from others.
What you can do: Do you want to make yourself stand out more? Do you tend to be the shrinking violet? Take an assertiveness training course or set yourself some interesting challenges to make you feel more accomplished. Sing your own praises, for example if you know when you've done a good job at work.
4 Flying through the air
Hidden meaning: These wonderful images reveal increased personal confidence, often about trying something. new. Sometimes they symbolise the first phases of love when you're in a new relationship and your heart is soaring.
What you can do: Use this period of increased confidence to improve any area of your life. that you've struggled with. Now is the time to face previous difficulties.
5 You have stunning good looks or a figure to die for
Hidden meaning: These images that enhance what we actually have can again be about classic wish fulfilment - wanting to feel more desirable. But they can also reveal that subconsciously you're aware you're overlooking some of your amazing qualities, not necessarily physical ones, but other attributes that you have to offer as a person.
What you can do: Let such dreams guide you into focusing on the inner you and what you have to offer others. Appreciate your personal strengths and don't fret about the lumps, bumps and little flaws that we all have.
Five top nightmare themes
1 Teeth crumbling, falling out or being spat out
Hidden meaning: Such dreams are usually about communication problems. It could be with your partner, family or someone at work. It reveals anxiety about getting your words out, symbolised by teeth images.
What you can do: Whether at work or in your personal life, plan for any conversation you've been putting off. Practice makes perfect so think about what needs to be said, make notes so you don't forget key points. Preparation gives you confidence to speak.
2 A life-threatening situation like you're about to plunge from a building or are actually dead
Hidden meaning: Such powerful nightmare images reveal a feeling that you can't cope with issues in your life. They show that, emotionally, it feels like your world might fall apart. A nightmare image of death can signal the end of something like a relationship. If it's not unpleasant, it can also symbolise rebirth.
What you can do: Don't keep worries to yourself. Open up to a loved one and sound them out on any issues you face. Getting support will help you get your emotional strength back.
3 Standing naked somewhere in public or being caught naked
Hidden meaning: Such images reveal that you feel vulnerable. Maybe you wonder where a new relationship is going and you're anxious about letting them into your heart. Or you fear people are talking about your work. It may also relate to an upcoming demand like public speaking.
What you can do: If in a new relationship, have confidence to take your time getting to know them. Trust isn't built overnight. If facing something you're worried about, like a presentation, ensure you know the topic well and rehearse it.
4 You do something you'd never do, like yell at your boss
Hidden meaning: You have angry emotions churning inside, probably where this person is concerned. These feelings cannot be ignored.
What you can do: Why is this relationship causing you anger? What can you do to improve it? Angry images can go both ways and part of you may be angry with yourself for not speaking up. Try seeing this person in a new light.
5 Chased by a stranger, monster or a frightening shape
Hidden meaning: These classic images symbolise feeling overwhelmed, usually with responsibilities or pressures. Phantom shapes catching up with you are about inner fears that you're getting behind. Or they can symbolise feeling "got at" by a particular person.
What you can do: Review your responsibilities and explore how you can better meet them. Break big demands into small steps that are less daunting. Don't be frightened of saying no if people ask favours.
Decipher your dreams
To help you discover the hidden meaning in your nocturnal mind games, use the D.R.E.A.M. key technique I've devised:
D is for detail: What dream detail stands out the most?
For instance, you find you can't move your feet in your dream? Such details can be the most important, giving you big clues. Being unable to move your feet suggests you feel "stuck" about something.
R is for recognition: Is there anything recognisable in your dream?
This could be a location, person or even your desk. The more recognisable features there are, the more realitybased your dream is. This means yourdream probably reflects your thoughts and feelings about this aspect of your life.
E is for emotion: What's the overriding feeling in your dream?
Is it unhappiness, sexual excitement, joy? This is a guide to what your deeper mind is trying to tell you. For example, if you dream of sex with your partner - and you feel very anxious about it - your sleeping mind is trying to tell you that something is lacking with intimacy.
A is for action: Are you leading the action in your dream or are you a passive observer?
If you're taking the lead in the action, it reveals what you want to do - like telling your mother-in-law off! If you're passively watching things happen, it often symbolises a lack of control, feeling overwhelmed or feeling helpless.
M is for meaning: Think about your dream - can you guess the meaning? What is your gut reaction to it?
Our dreams are there to guide us within our lives. If you relax your mind and think back to your dream, you can often gain a sense of what it's really about.