Michelle Langi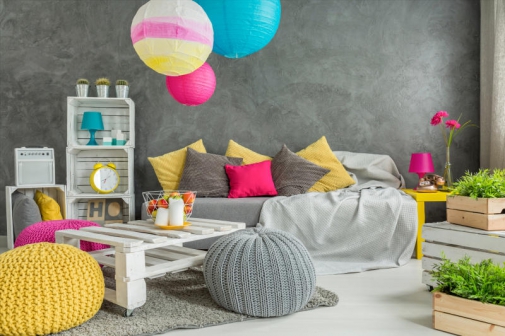 The colour institute Pantone decides which colour will dominate every year. This does not mean that you throw away all your possessions or that you buy or paint everything in the proposed colours. For 2017, the colour of the year is a shade of robust yellow-green called greenery.
According to Pantone, greenery is symbol of a fresh start. It has however been met with shock from design enthusiasts. Paint manufacturers are not keen on greenery so they have also come up with their own set of colours of the year.
Nevertheless, this very green Kermit the Frog colour can seep into your life and elicit several reactions when used well. We show you different ways to use the colour greenery.
Pair it
Find colours that will pair well with greenery. Fresh white is a perfect partner to greenery in a minimalist and contemporary home.
For a home with a mishmash of styles, greenery can be used alongside other bright colours to add an element of fun. Greenery is a trans-seasonal colour and it plays well with other naturally occurring colours in different
Palettes.
Think of green flowers with pink, red, yellow, purple or blue flowers. When mixed with the right neutral, greenery can be used with several other colours.
Accessorise with it
Use greenery to accessorise your home. Find accessories in this colour that will complement your pieces. Some pillows, afghan throws, wall art and other décor knick-knacks in this vibrant colour will add joie de vivre to your rooms.
Plant it
Greenery is being referred to as "nature's neutral" colour. A few plants of this colour is all you need. Look for spring green herbs like coriander, basil or thyme as well as indoor shrubs and flowers. This will effortlessly add a pop of the colour without being outlandish.
Crockery
You can buy crockery, storage containers and vases in this shade of green. Throw in a hint of greenery in your décor with table mats, dining table runners or centerpieces.
Go all green
This is a very bold move for anyone, even those who are bold with colour. Greenery will make any room feel more airy and reflect more light therefore appearing larger. You can choose to splash it on all your walls or to do one accent wall. The plus is that this colour provides a perfect background for art and neutral furniture.
Pop of colour
You can infuse random pops of this organic green colour in your décor. For instance, you can paint the frame of a picture in greenery or paint your dining buffet. You can also use greenery for drapery and upholstery fabric. A pair of curtains in this colour will add some understated drama to your space.