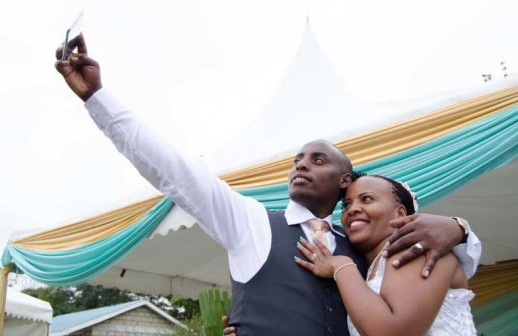 FIRST DATE
Patrick: It was a modest date by any standards. One cold Tuesday evening in 2012, the date started at a Kenchic Inn in Nakuru where we shared half a chicken and fries. Later, we went to a local restaurant that hosted Karaoke sessions on Tuesdays. It was also the night I got my first kiss after I dropped her off to her hostel.
THE PROPOSAL
Patrick: It was on November 28, 2015, and on that day there was an inaugural Flamingo Awards gala event in Nakuru town that coincided with my birthday. Our company was the main sponsor of the event and some of us were nominated in some categories. Knowing I wouldn't have any other time for something special, I spoke to a few people involved in organizing the event and a plan was hatched.
Before the main event began, I was called on to the stage with my fiancée and at that point without her realization, I went down on one knee and popped the question amidst cheers from the crowd. I remember her tears falling on me as she said yes with her voice shaking. Mind you the hall was packed with over 2,000 people!
Rebecca: Mainstream and social media was abuzz for weeks with the story of a guy who proposed on stage in front of a multitude of people. Many people congratulated me for the dramatic engagement, others were shocked, surprised and others even accused him of raising the bar too high for guys out there. Walking in the streets of Nakuru almost became impossible in the weeks that followed, but it was a nice experience.
THE DRAMA
Rebecca: It was a simple formal garden wedding. We decided to experiment with grey, gold and mint green as the theme colors which turned out really well and service providers came through.
Patrick: I had a rather good experience thanks to close friends and family who managed almost every aspect of the planning process. I had also mapped out key areas that I figured bring the most challenges during the planning process and had them dealt with earlier.
However it was overwhelming with less than a month to plan for a wedding single handedly as my fiancé and I work in separate towns. Her application for leave was yet to be approved and the first two weeks of planning were a bit challenging.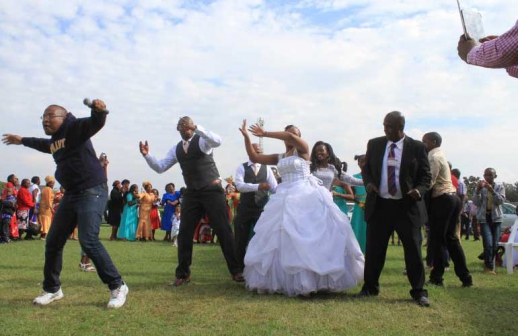 WITH HINDSIGHT
Rebecca: Understanding your partner and good communication among couples during and after the wedding plan is very important. Also, planning in advance can reduce the burnout which we had to contend with as we had just a month to set things in motion.
MEMORABLE MOMENTS
Rebecca: Reciting our vows. It was so intense and surreal. Everything was quiet and people were standing up as I slowly read and made the vows. It was at that moment it hit me that this was it.
Patrick: We had opted to come up with our own vows. She came up with a very elaborate and moving recital while I on the other hand hadn't had enough time to craft anything. I scribbled something on a piece of paper as we made the procession from my place to the wedding venue and it wasn't exactly the most creative piece.
But not wanting to disappoint, I quickly added some few sentences to what I had written and it came out really well. I saw tears welling up in her eyes and a few others present.
HONEYMOON
For More of This Stories Subscribe to the Standard Epaper to get a copy of Eve Woman in the Standard
Rebecca: After a lot of head scratching, we settled on Mombasa. His idea was for us to book different hotels every day for the two weeks we planned to be there so as to have the best experience but I talked him out of the plan. We were able to get some very decent furnished apartments tucked away in Mtwapa along the Mombasa – Malindi road.
Patrick: It has always been our desire to go on a road trip to a far off place since travelling is one of the many hobbies we share. So the honeymoon provided the best excuse for us to do that. Driving all the way to Mombasa and back from Nakuru and stopping along the way to take photos and experience local scenery was for me the best idea of a honeymoon.
Rebecca: The road trip and the entire two weeks stay at the Coast proved to be the best way to begin our journey into marriage. We managed to have deep conversations about our future and at the same time have fun.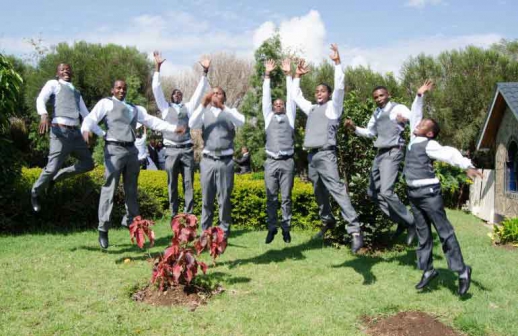 Do not miss out on the latest news. Join the Eve Digital Telegram channel HERE.