Silas Nyanchwani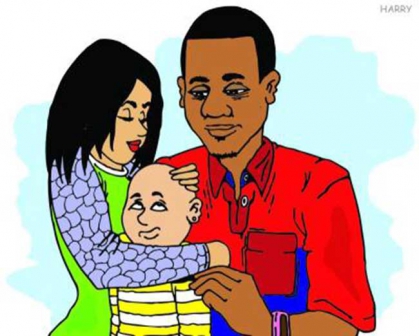 On a Sunday mid-morning, you accompany Carol to the upper middle-class neighborhood to the West of Nairobi to visit Carol's daughter. You wait for like five minutes outside the gate before you are ushered into the palatial home.
The daughter sees the mother, runs the 50 or so yards to meet her midway. She picks her up, kisses her and passes her over to you mid-air, which she partially resists.
You hold her high in the air, before you place her down and shake her hand. She is so young and yet, her life has been painfully disrupted by two warring adults who should know better. The whole experience has an American feel to it.
Baby daddy, new boyfriend, the mother and the child meeting for the first time. Often, they meet at a funeral of either the mother or the child. But today, you meeting under peaceful circumstances. Your prayer is that the baby daddy will behave.
Of course, he doesn't. As soon as he walks out and sees you, he becomes hostile. Of course Carol has sufficiently warned you that he is a douchebag. And you see that from the word go. He can't even fake a smile. He half-heartedly shakes Carol's hand and barely shakes yours. And he launches into a conversation with Carol. When your eyes cross next, you realize that you can't stand him, and you notice that he can't stand you either. You both decide that you will never be friends.
He goes on to ignore you like you are fly on the wall. He even grabs Carol's hand and they walk to the gazebo, where they sit down, and talk. They leave you with the daughter, Farrah, they call her. She is dark-skinned like the father, but in everything else she has taken after the mother. And what a breathtaking beauty she will grow to be?
She is in that phase in life where she asks a million questions and doesn't wait for answers. For 20 minutes you are left with her and you have to entertain, teach her, and be patient. Generally, you are never that patient with kids. What is happening to you?
When they come back, the man doesn't even look at you, he hugs her goodbye, and you leave him with the girl. You notice in their hug, there was still some small spark, but you can't tell if they are just being civil or they still have something going on. Any woman would give anything to live in the house the lawyer lives in.
You exit. You don't talk until you get to Galleria, where you have to start spoiling Farrah. On days like this her mother buys her ice cream, cookies and all the sweet things kids love. Next you will join other kids at Prestige Plaza, for her to play with other kids, before dropping her later in the evening.
When the kid is playing, you get to talk about many things. Why did she lose custody?
"I had to leave for my Masters in the UK, when Farrah was only two. We were yet to part ways. The father could not allow the kid to be anybody else, he fought until he took the kid away, but he loves the daughter and he took care of her well," she explains.
You sit there thinking, maybe she doesn't want the kid bad enough.
"Do you really want the child back?
"Yes." She says assertively.
Then, we have to take her from that douchebag.
Carol looks at you, cynicism written all over her.