Gardy Chacha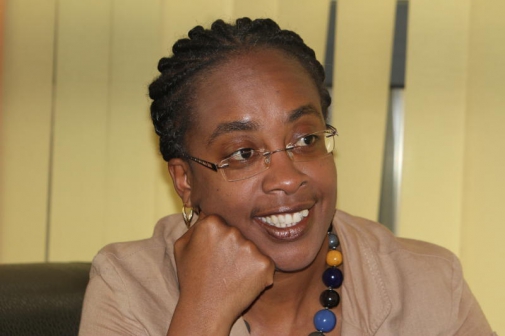 Jacqueline Kitulu's career is at its best, she is the new chairperson of the Kenya Medical Association board, a mother of two boys and wife, she shares with GARDY CHACHA the secret to a happy marriage while climbing the corporate ladder
ALSO READ: Women in Laikipia produce face masks, sanitary pads for girls amidst COVID-19
In classic medical fashion, Jacqueline Kitulu arrives at the designated meeting point 20 minutes late. But she knows that it is a serious meeting we are about to have; not a friendly tete-a-tete.
For that, she apologises. She has had a rather "crazy morning". Her career as a family physician means that she has very little time – if any – to even sigh at the world and its idiosyncrasies.
So, fresh from a crazy morning, maneouvering from patient to patient and from clinic to clinic, here she is facing inquisitive journalists on a rainy afternoon.
Is it tough?
"Yes," she says, "which I believe happens nearly with every busy career."
Despite the back-to-back itinerary, Jacqueline made a conscious decision to put her family first ahead of everything else. If she had to make a choice between keeping her job and being a married mother she wouldn't bat an eyelid.
Not that she lacks a social life. It is already strenuous practicing as a family doctor. "When I am sick it is my family that will be there for me. When I have tears, family will wipe them. Family will always have your back," she says.
As such it is not really weird for her to carve out time for her arrival home where she will dress down and perhaps prepare a meal for her two sons and husband.
At a time being single and financially stable is a celebrated trait in women it may be easy to poke holes in Jacqueline's beliefs. She is still as chic and feisty as she is brainy. If she wished for it she would have easily avoided the hustle of running around the house after playful boys. She would have avoided the 'heartache' of sharing her life with someone else.
Jacqueline got married while she was in medical school. Like she had expected life took a different tangent; one where she wasn't alone. It is a unit she reveres to date and puts ahead of everything else.
The esteem with which she regarded family would also shore when choosing a speciality. She toyed around with several options: anaesthesiology strongly appealed to her.
As a young doctor she was expected to rotate through all departments. It is while on these rotations that she determined that "anaesthesiology would have been a big mistake".
She says: "I realised I am a social person. I like talking to people and explaining things to them. Talking about what they are going through and helping with solving their problems. That is when I decided to be a family physician."
She had worked at hospitals and done private practice too. She was therefore satisfied that she had made the right call.
Typically Jacqueline will treat toddlers, adolescents, young adults and even parents. Think of her as the first stop for every illness that afflicts the classic nuclear family. When a parent arrives at her clinic with a sick child it mollifies her heart. You may see a parent and a sick child but not her; she will see a family.
For decades women have been breaking the glass ceiling. And three weeks ago, Jacqueline had her feel too. On April 22 she successfully sought to be elected the chairperson of Kenya Medical Association (KMA).
"I am the first female practitioner to hold this position. I am happy to have ended the belief that KMA is only a preserve of old male doctors. I am here because I have ambitions to change how KMA works; to bring in policies that will work for the benefit of all Kenyan patients," she says.
But don't take it that her life is meticulously career driven. On the contrary, Jacqueline loves talking and interacting with people. She is a self-confessed social being.
She is also a member of an all-woman chama made of friends who not only support each other financially but also find happiness in keeping each other accountable to values and personal goals.
Like any chama there's too has merriment. There will be juicy stories and topics about life. The women will soften guard and engage in harmless chit chat. Gossip won't be welcome but that won't prevent a few flickers from flying by.
On the same day as the interview Jacqueline and her husband have date night. The couple will go out and have dinner together.
"We are open to a lot of ideas. We could travel to other destinations or decide to have some good time around town. All the same it is date night for us: we set time for each other – for the family," she says.
Jacqueline will not let career interfere with her family plans. Not long ago she requested to defend her thesis at Strathmore University on a different day when it emerged that the proposed time coincided with a family date.
"I had already set this time for my family. I couldn't let anything else take it up," she says.
By 5pm Jacqueline is usually planning her exit from the office heading home. Hopefully she will be at home by 6pm. And as she makes the steps into the house she will have switched gears to mother/wife mode.
"There is nothing medical in my house. I don't carry any work home: not books or patient files. It is a place where we are all ourselves. We can do anything together without invoking any office related material."
So, while it is ethically advisable that doctors don't treat a member of the family, she won't do it for the reason that she prefers separating her role in the family from her medical profession.
She can only recall one time when she had to perform an injection on her son. "That was only because it was an injectable. But I vowed not to do that to him again. I don't treat my family; I let other doctors do it. I would be too flippant about it. I can only be a mother when my son is sick – not both mother and doctor," she says.
Jacqueline has been married for 19 years now. She admits that it is not easy to have it all. Family however remains a point of purpose in her existence.