Wambui Kuria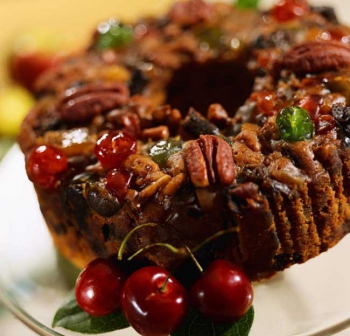 ALSO READ: #Easyrecipe: Sweet potatoes, wet fried beef and beans
Christmas is here, when families get together and celebrate. Christmas in Kenya is largely celebrated with the entire family coming together, sharing a meal and time together.
Chapati, Nyama choma (roast meat) with kachumbari, mutura, Pilau, beef stew, biryani, samosa, are some of the foods on our tables during Christmas. I try always to have a Christmas cake on the menu, my family and friends always expect some kind of dessert. Last year I had eggnog and cake and custard (my daughter' favourite), and it was a hit.
This year, I intend to have Christmas cake which I have started preparing. My fruits are soaked (for two days) getting ready to bake tomorrow. Following the same recipe, one can store the cake for up to 10 weeks all you need to do is douse with additional rum for every 10 weeks of storage
Prep Time: 20 minutes
Cooking Time: 45 minutes
Ready In: 7-11 days
Ingredients:
1/8 cup dried cherries, chopped
1/8 cup dried mango, chopped
¼ cup dried cranberries
¼ cup dried currants
¼ cup dark rum
½ cup butter
¼ cup packed brown sugar
1 egg
1/8 teaspoon baking soda
¼ teaspoon salt
¼ teaspoon ground cinnamon
¼ cup unsulfured molasses
2 tablespoon milk
¼ cup pecans, chopped
Directions:
Soak cherries, mango, cranberries, and currants in 1/4 cup rum for at least 24 hours. Cover tightly, and store at room temperature.
Preheat oven to 325 degrees F (165 degrees C). Butter a 6x3-inch round pan or loaf pan and line it with parchment paper.
In a large bowl, cream together butter and brown sugar until fluffy. Beat in egg. Whisk together flour, baking soda, salt, and cinnamon; mix into butter and sugar in three batches, alternating with molasses and milk. Stir in soaked fruit and chopped nuts. Scrape batter into prepared pan.
Bake in preheated oven for 40 to 45 minutes. Cool in the pan for 10 minutes, then sprinkle with two tablespoons rum.
Cut out one piece parchment paper and one piece cheesecloth, each large enough to wrap around the cake. Moisten cheesecloth with 1 tablespoon rum.
ALSO READ: Egg sandwich breakfast hack goes viral and people can't wait to try it
Arrange cheesecloth on top of parchment paper, and unmold cake onto it. Sprinkle top and sides of cake with remaining rum. Wrap the cheesecloth closely to the surface of the cake, then wrap with paper. Place in an airtight tin, and age for at least seven days.