Home
/
General
Not sure what's making you fat? this could be the reason.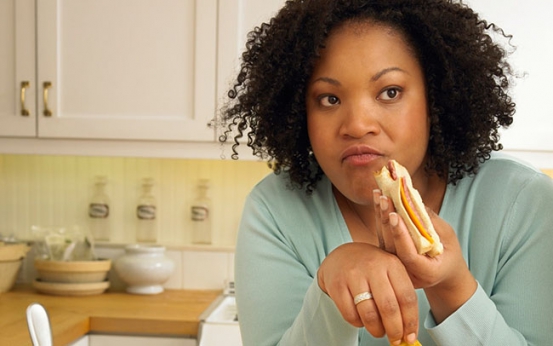 Piling on the pounds but not sure why? It's time to identify your diet disruptors…
Is that number on the scales just not shifting, even though you think you're eating healthily?
Losing weight is hard work, and it's even harder when certain situations tempt you into bad eating habits.
"Part of the challenge is being aware of what could be a danger, and making small changes to your diet," explains nutrition expert Gareth Nicholas. Here are the most common dieting dilemmas…
You're eating the leftovers
We've all been there – the kids have only eaten half their dinner, and before you know it, you've demolished the rest. But don't worry, it's not just you. 90% of women in the UK admit to snacking mindlessly throughout the day, according to research by the Almond Board of California. So it's not hard to see how our healthy diets can become unbalanced.
"Snacking is important to help control hunger and provide essential nutrients," reassures dietitian Lucy Jones. But snacking on the right foods is the trick to keeping that muffin top at bay.
While your kids' meals might sometimes be ultra healthy, snaffling a portion of oven chips or creamy pasta isn't the right way to go.
Diet fixer: "If you're a snacker, there are easy ways to ensure you're still achieving a balanced diet," advises Lucy. "Almonds are a high source of fibre and just a handful (30g) a day can boost your nutrient intake.
"Research found that a mid-morning snack of almonds resulted in a reduced calorie intake during the rest of the day," adds Lucy.
Also try salted popcorn, carrot sticks or fruit to keep your blood sugar steady until it's time for dinner.
Too many work temptations
Constantly enticed by tea-break treats, birthday cakes and lunchtime trips to the sandwich shop? A recent poll by Horlicks found that it's not weekends or holidays that are bad for our diet, it's going to work.
A quarter of us admitted that workplace treats regularly ruin our healthy-eating routine, with the coffee shop run for hot chocolates or cappuccinos being the worst.
"The office can be a hotbed of unhealthy snacks and sedentary habits, but it is possible to stay healthy," says Gareth Nicholas.
Diet fixer: "Try a low-sugar alternative, such as Horlicks Light, to avoid unconscious calories from hot drinks," he suggests.
Swap calorific ready-made sandwiches and crisps for home-made salads and snacks made in advance. Avoid the temptation of the office biscuit tin by having plenty of healthy foods to graze on between meals like nuts and crackers.
Eating the same portions as your partner
Used to be much slimmer before you met your partner? Then his eating habits could be partly to blame for your weight gain.
"If it's your partner who cooks, gently encourage him to cut portions and make sure he's using healthy, fresh ingredients," says Helen Ford, senior nutritionist at Glenville Nutrition Clinic.
Diet fixer: "Prepare meals together using wholesome ingredients and no carbs," says Helen. If this doesn't work, just make sure you're strict and put smaller portions on your plate.
Choose wisely with takeaways: "Try a grilled chicken kebab without the pitta, chicken tikka instead of korma, and cut out the carbohydrates," advises Helen.
Take charge of the weekly food shop and only buy healthy food so there's less temptation. "If you feel your meals are incomplete without carbs, try using quinoa instead," suggests Helen.
A night out with your friends
Although a treat once in a while doesn't hurt, if you go out regularly with your girlfriends and you're trying to be healthy, ask them to support you and not try to sabotage your diet by encouraging you to eat stodgy food or drink creamy cocktails.
Diet fixer: "Once you've been eating well for a few months you won't actually want anything bad for you," says nutritionist Helen. "You'll be content having a salad with fish or chicken or another protein meal without the carbs."
And while your friends might be quaffing Piña Coladas or a creamy after-dinner liqueur, you can make better choices like a spritzer or spirit with slimline tonic water for a longer, more refreshing drink.
Eating out
"Don't get too stressed when you dine out, particularly if it's infrequent, as you don't want to compromise your experience," advises Helen. "It's all about how you eat every day – the odd treat doesn't matter."
But if you have to eat out a lot, perhaps because you travel or work away from home staying in hotels, try to choose better options than burgers, pizza and heavy pasta.
Diet fixer: "Choose a main course salad, or a large side salad with added protein like fish, chicken or goat's cheese," says Helen.
"Another option is to have two starters rather than a main. Avoid the before-dinner bread, choosing olives instead if you're feeling peckish. And when it comes to alcohol, just have one measure of a spirit or a small glass of wine."
Related Topics