Gardy Chacha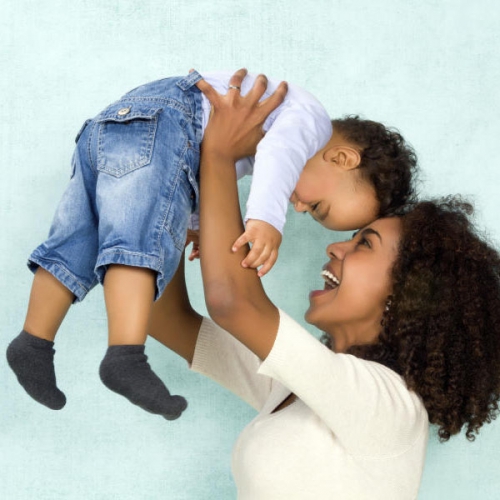 What no one told me about motherhood
Before giving birth to her son, Margarette Wangari supported the school of thought that the hardest part about motherhood is going through labour. True to her suspicions the pain was immense; she discovered that babies don't just pop out at a single cough. But she would learn with time that there is more to motherhood than just bringing delivery.
Which was rather ironical for her – and many first time mothers – for she had researched well before the D-day. But what is it that many mothers wish they could have grasped better? What didn't their experiences (before motherhood) and Dr. Google hide from them prior to commissioning life into Earth?
1. Loss of independence
While she has no hang ups that she made the right choices, Ninda Kang'ethe admits that her children took her independence away. "It hit me that my life was no longer mine alone. I got automatically concerned about my children more than I needed to look after myself," she says.
Raising children has ensured one thing for her; that she is never alone for more than a few minutes and privacy is a distant dream.
Suffice to say, almost everything she has set forth to accomplish can be traced back to her children. "I can't tell you the last coffee I had with a friend. I no longer had all the time to be going out every weekend with my friends," she adds.
And it is not only her itinerary that was unexpectedly swept by the wayside when the storm of motherhood hit her shores. She went from size 6 to size 14.
"It disturbed me in the first few years but I got over it. But I have also come to learn that I am happy being a mother. I would trade the shape for motherhood again if I had to," she says.
2. Cleaning poo and tidying at every juncture
It is not uncommon to hear would-be-mothers chest thump and issue assuring verbatim: "Cleaning poo is not that difficult; I have done it before for my sister," they gush. The camaraderie ends when theory becomes reality, like Margarette did.
She says: "A baby comes with a lot of responsibility. As you attend to them, they create more mess and it is an unending cycle. It is tiring. It is only after a while that a mother falls into rhythm."
If you are keen on wearing a squeaky clean white dress for a get together, she explains, when you are a mother you may need to relinquish the high ropes and settle for anything. "The baby may burp on it; poop on it; or paint it with anything. Just laugh and care for them."
At some point, she insists, it becomes hilarious instead of disgusting; and it is all natural.
3. The breastfeeding crisis
Pull it out and shove it down the baby's throat. Well, it is not as easy as it sounds.
And one professional nurse found out the hard way: She learnt that breastfeeding, in actual practice, is not the brouhaha you hear on the streets from any Jane, Jean and Josephine.
"Some days it worked, some days it didn't. I would have to express the milk if it meant that was the only way to feed the baby," recalls Caroline Njeri, a mother of one and a practicing nurse. "I had knowledge about it but I found out that it is only when you are the mother that you appreciate the struggles some women go through."
She is not the only woman to admit feeling gob-smacked by the prospect of feeling inadequate in the breastfeeding department.
Maryanne Wanyama, a mother to two boys, experienced something similar with her firstborn. "I used to think it was easy; that it was not supposed to be rocket science. I couldn't even produce the milk in the first four days. And when the milk finally began flowing, I struggled with latching the baby on the breast. Thankfully, I managed to overcome it with the help of my doctor and hospital," she says.
4. Emotional meltdown
For Maryanne, the times her babies would fall sick came with thunderous shock. "I couldn't stand watching any of my children fraught with sickness. It is hard for some mothers to see their child unwell and helpless. It hurts even more to realize that there is nothing much that you can do except to watch and wait," she says.
For other mothers, it comes in form of post-partum depression, currently recognized as an illness. And while others may interpret it as senseless dereliction of duty, only those who have suffered from the condition can describe how they felt 'pushed to the wall'.
One scribe who wishes not to be named admits to "wanting to throw away the baby after just a few months."
She says: "It is an overwhelming feeling. Suddenly, your life changes and you don't know how to cope. You go through a roller-coaster of emotions. It is horrible."
As the children grow, every mother walks with their hearts in their hands. As they vigorously explore the environment, dangers lurk in the background. An incident is enough to get a mother's heart flying past the sky.
Congratulatory messages may overflow but it is, however, not outright that the mother feels any joy having the 'bundle of joy'.
5. My whole body can't cope
As aforementioned, a newborn comes with a package – not just the innocence of a smooch face.
Ask around: Which mother hasn't had to rush to the hospital for an emergency? Who has been lucky to experience a full night's sleep? Who has spent the whole day with nothing much to do?
In all likelihood, Ninda argues, almost none. She says: "There is so much work for a mother. Sometimes I have had to drive to the supermarket with them; multitasking. As I shop, I am watching over them."
Maryanne, on the other hand, admits to leading a totally different lifestyle compared to her pre-motherhood days. She gave up formal employment, choosing to be self-employed, to attain flexibility.
"In those early years of their lives, I stopped travelling outside the country for any kind of work. I had to wait until they were old enough to take up jobs that required me to travel abroad," she says.
In making all these sacrifices, none of the mothers interviewed felt vilified by the responsibilities motherhood has placed on them. "I would be a mother again if time rolled back; there is nothing to regret," chimed Maryanne.
The best gift that Ninda believes motherhood has offered her is "feeling unconditionally loved by a little being – regardless of how I look or who I am."
And while Caroline has had to replace many a broken TV remote in the house, she terms motherhood as absolutely marvelous.
For Margarette, if she is ever asked what achievements she has to her name and nothing much shores up, she will say "I am a mother."
Before she became a mother, Veronica Njeri would sneer at mothers with crying babies. "I would think that they were being bad mothers," she says.
It is only after the tables turned, when she gave birth to her daughter, that she realized she had wrongly taunted women who deserve all the praise in the history of mankind: mothers.
"I know better now," she says, "I have had moments of self-doubt; when I have wondered if my parenting skills are up to the right standards. But I now understand why my mother seemed overprotective over me as her child: the value of motherhood is beyond what people see — you can't explain it in words."